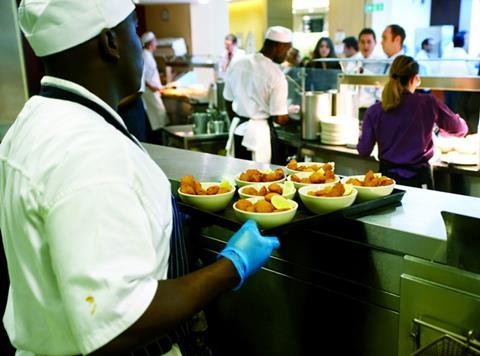 Top story
Catering giant Compass Group has announced a new commitment to reach net zero greenhouse gas emissions across its global operations and supply chain by 2050.
The group, which operates in 45 countries, employs around 550,000 people and serves over 5.5 billion meals a year, said the commitment makes it the first international company in the contract catering industry to announce a commitment towards a net zero emissions economy.
Compass group's plan includes emissions reduction targets over the next decade which have been validated by the Science Based Targets initiative and a further commitment to be carbon neutral worldwide in its own operations by 2030.
Specific actions include the transition of all fleet vehicles globally to 100% plug-in electric, a switch to renewable electricity across all its own operations, reformulation of menus to be low carbon and switch towards more plant-based proteins and increased sourcing from regenerative agriculture.
The group will also focus on packaging solutions to further reduce single-use plastic and has committed to a 50% reduction in food waste across its operations globally by 2030.
Compass said it will use its scale and global reach to influence and work collaboratively with clients, industry associates, governments and suppliers to reduce their direct GHG emissions, set their own net zero and Science Based Targets and "help create a more sustainable global food system for all".
The announcement follows the commitment made earlier this year by the group's UK & Ireland business to deliver Climate Net Zero across its operations by 2030.
CEO Dominic Blakemore commented: "The international food industry has a major role to play in reaching Climate Net Zero and driving the transition to a healthy and sustainable food system. Compass Group's new global Climate Net Zero target reflects our teams' commitment to sustainable sourcing, eliminating food waste and transforming our environmental impact.
"Given the complexity of the global food supply chain as it is today, we do not underestimate the scale of the challenge ahead of us. Radical new collaborations are urgently needed across the entire value chain to make it a reality. As the world's largest food services group, operating at the heart of the global food supply chain, we are in a unique position to influence real change, by working in partnership with our suppliers and encouraging sustainable consumption from the clients and consumers we serve every day."
Morning update
Russian grocery retailer X5 Retail saw total sales increased by 11.6% year-on-year in the third quarter, driven by strong instore sales and continued growth of its digital operations.
The group saw sales grow to RUB542bn, driven by a 10.3ppt contribution to sales growth from offline sales and a 1.3ppt contribution from digital businesses in Q3 2021.
Its Pyaterochka chain's offline net sales increased by 11.6% y-o-y, driven by 7.7% selling space expansion and LFL sales growth of 5%.
Perekrestok offline net sales increased by 10.2% y-o-y, driven by 10.5% selling space expansion and LFL sales growth of 4.5%.
In total, X5 added 353 net new stores in Q3 2021; in addition, 133 proximity stores and 10 supermarkets were refurbished to the new concepts.
As part of the hypermarket format transformation programme, Karusel continued downsizing with its selling space declining by 40.9% y-o-y and LFL performance remained negative as many stores continue to prepare for planned closures.
Revenue growth from digital businesses accelerated to 156.9% and totalled RUB10.7bn in Q3 2021. In Moscow and the Moscow region, the share of digital sales for Q3 2021 reached 3.6%, compared with an average 2% contribution to the total sales for X5 Group.
Food inflation in Q3 2021 accelerated to 8.1% (peaking at 9.2% in September) compared to 7.3% in Q2 2021 as prices for milk, meat and meat products, pasta and bakery products continued to grow at a rate higher than inflation on the back of rising prices for raw materials.
The group also said imbalances in the labour market, reflected in the growth of wages, led to a shortage of workforce in the transportation and logistics sectors, as well as at some large food processing enterprises (including poultry farms).
On the markets this morning, the FTSE 100 has edged up another 0.2% to 7,223.5pts.
Early risers include THG, up 5.8% to 323.5p, Virgin Wines, up 5.6% to 190p and Marston's, up 2.5% to 75.1p.
Fallers include Bakkavor, down 3.2% to 122.8p, McColl's, down 2.3% to 21p and Glanbia, down 1.9% to €13.93.
Yesterday in the City
The FTSE 100 closed up again yesterday to reach a new post Covid high of 7,227.4pts.
Domino's Pizza Group failed to join in with the positive market sentiment, falling back 4.2% to 370p as growth slowed in its third quarter.
Other fallers included Nichols, down 2.3% to 1,192.5p, C&C Group, down 2% to 246p, Hotel Chocolat, down 2% to 504p, SSP Group, down 1.5% to 261.3p and Science in Sport, down 1.3% to 75p.
Coca-Cola Europacific Partners was a major riser, climbing 11.2% to €51.70, while THG recovered somewhat from its dreadful recent share price run to regain 10.6% back to 305.8p.
Other risers included PayPoint, up 4.7% to 716p, Glanbia, up 4.4% to €14.20, Parsley Box, up 3.8% to 55p, McColl's Retail Group, up 3.4% to 21.5p, McBride, up 3.2% to 71.2p, Deliveroo, up 2.6% to 277.1p and Greencore, up 2.2% to 134.5p.