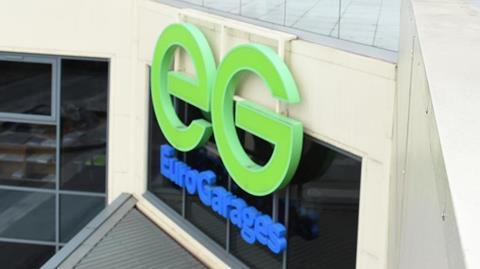 Top story
EG Group is exploring options with bankers that could result in a $15bn (£10.8bn) sale, according to reports.
Bloomberg has reported that the TDR Capital-backed forecourt and retail group is working with advisers including Rothschild & Co., Goldman Sachs, Morgan Stanley and Barclays to weigh strategic options.
The heavily acquisitive Blackburn based company has previously been linked with an IPO, but Bloomberg suggests it could be sold to a larger global operator.
As an example it cited Seven & i Holdings Co., the Japanese company that controls 7-Eleven, which completed its $21bn purchase of Marathon Petroleum Corp.'s Speedway gas stations in May, and Alimentation Couche-Tard Inc., the owner of Circle K convenience stores, which has also been seeking to expand through acquisitions overseas.
Deliberations are said to be in the early stages, and there's no certainty they'll result in a deal, while Bloomberg acknowledged that EG Group could also explore an initial public offering.
"EG Group regularly works with its advisers to explore a wide range of options to create value in its portfolio," a spokesperson for EG Group said in an emailed statement.
EG Group owners the Issa brothers agreed a £6.8bn deal alongside private equity player and EG Group-funded TDR Capital to buy Asda in October last year.
EG Group itself bought Kroger's US convenience store business for $2.15bn in 2018 and Cumberland Farms to become the fifth-largest independent convenience-store operator in the US, while it also spend $1.3bn on acquiring 540 Australian fuel convenience sites from Woolworths.
Morning update
Supermarket Income REIT has announced that Sainsbury's has decided to buy back 13 stores from its real estate investment trust joint venture it operates with British Airways Pension Trustees.
The JV has a 51% beneficial interest in the Sainsbury's Reversion Portfolio. The remaining 49% beneficial interest is held by Sainsbury's and consists of the freeholds to 26 Sainsbury's supermarkets.
Sainsbury's has exercised a purchase option to acquire 13 stores within the portfolio, which will be completed in March 2023 upon expiry of the current occupational leases.
The purchase price under the option is to be determined based on the assumption of a new 20-year lease to Sainsbury's with the initial rent set at the higher of passing or open market, subject to upward-only, five yearly market rent reviews.
In addition, Sainsbury's has a remaining purchase option to acquire a further 10 stores in the portfolio, which can be exercised between December 2021 and January 2022.
Ben Green, director of Atrato Capital, the investment adviser to Supermarket Income REIT plc, said: "Sainsbury's decision to buy back these stores is further evidence of the strength of demand for grocery property in the UK and also demonstrates the balance sheet strength of the supermarket operators. The exercise of this first tranche of options is expected to generate a positive NAV impact for Supermarket Income REIT."
On the markets this morning, the FTSE 100 has regained 0.3% to 7,046.7pts.
Risers include McBride, up 3.1% to 78.7p, Glanbia, up 2.7% to €14.87 and SSP Group, up 1.5% to 261.4p.
Fallers include C&C Group, down 1.5% to 243p, Coca-Cola HBC, down 1.1% to 2,456p and Britvic, down 1% to 952p.
Yesterday in the City
The FTSE 100 suffered its third day of losses yesterday, with the index down 1% to 7,024.2pts on wider global economic fears.
The day's fallers included those exposed to out of home markets, including Coca-Cola HBC, down 4.4% to 2,482p, SSP Group, down 3% to 257.5p, Nichols, down 2.7% to 1,362.5p and FeverTree, down 2.6% to 2,182p.
Other fallers included Glanbia, down 2.5% to €14.48, British American Tobacco, down 2.2% to 2,663p, Hilton Food Group, down 2.1% to 1,124p, Naked Wines, down 1.8% to 853p, Ocado, down 1.8% to 1,911p and Imperial Brands, down 1.6% to 1,527p.
Bakkavor Group continued its strong showing since Wednesday's interim results, rising 9% to 131p, while other risers include McColl's Retail Group, up 2% to 20p, Kerry Group, up 1.9% to €124.75, THG, up 1.2% to 670p, B&M European Value Retail, up 1.1% to 584.4p and WH Smith, up 1% to 1,499.5p.