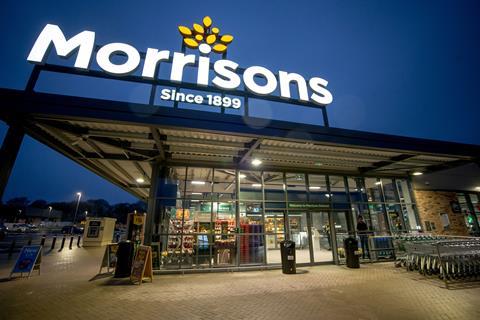 Top story
Morrisons is in talks with the UK Takeover Panel in preparation for a bidding auction ahead of a shareholder vote in mid October.
The supermarket announced today it is in talks with the Panel Executive together with biddersClayton, Dubilier & Rice (CD&R) and Fortress Investments "around an orderly framework for the resolution of this competitive situation".
In order to provide sufficient time for the resolution of the situation, Morrisons now expects that a scheme document, containing further information about the CD&R offer will be posted to Morrisons shareholders on or around 25 September 2021.
The CD&R shareholder meeting will take place during or around the week commencing 18 October 2021.
Any meeting to approve the Fortress offer will be adjourned until the same date.
Any auction procedure will take place prior to these shareholder meetings, on a date that will be announced by the Takeover Panel in due course.
Following completion of the auction procedure, the Morrisons Board anticipates proceeding with either the Fortress or the CD&R shareholder meeting depending on which offer it is recommending to Morrisons shareholders.
It stated: "In addition to the financial terms of any offer, the Morrisons Board continues to place very significant emphasis on the wider responsibilities of ownership of Morrisons.
"These responsibilities include a recognition of the importance to the Morrisons business of all stakeholders, including colleagues, customers, pension trustees and suppliers as well as the distinct heritage and history of Morrisons and the legacy of Sir Ken Morrison."
On 6 August the Morrisons board approved a 270p per share plus 2p dividend bid from Fortress.
However, on 19 August it reversed this decision to instead recommend a higher 285p per share bid from CD&R.
The Fortess-backed consortium is currently considering whether to raise its bid.
Morning update
Bakkavor has posted a "significant improvement in revenue" in the first half of the year as it benefited from the easing of lockdown restrictions.
The vaccine rollout and lifting of coronavirus restrictions has resulted in a return of consumer demand and activity to pre-pandemic levels, it said.
This resulted in a 6.4% increase in like-for-like revenue to £924.9m, while overall group revenues were up 4% to 915.7m.
Like for like revenues are now 1.2% ahead of 2019.
The sales increase was matched by a significant improvement in profitability, with operating profit rising 243% to £47m and adjusted operating profit up 63.8% to £47m and 10.8% ahead of 2019.
In the UK, COVID-19 continued to impact the business at the beginning of the year, but the group saw a recovery in sales as it lapped the beginning of the pandemic and lockdown restrictions have eased.
In May it saw a return in the frequency of shopping visits, a key driver of demand for its FPF categories, to pre-COVID-19 levels.
"Despite the uncertainty over the last 18 months, we have responded with agility and protected and enhanced our customer relationships," it stated. "We continue to work collaboratively with our customers and the first half saw us driving innovation through on-trend new product launches to inject growth back into our categories."
It also made "significant progress" in the US, where it saw an acceleration in sales momentum from existing strategic customers in traditional grocery retail and online channels. It recently extended its West Coast meals proposition to a national offering for a strategic customer.
Its China business was the most severely impacted by COVID-19, however it said it has the well-established foundations necessary to capitalise on this nascent but fast-growing food-to-go market. Volumes continue to recover, with revenues almost back to pre-pandemic levels.
The strong first half performance and continued recovery in volumes at the start of the second half gives the board confidence in delivering a full year performance in line with the expectations
Bakkavor said it has looked to optimise labour productivity, drive operational efficiency and expand capacity to support profitable growth in future periods "which leaves us well placed to mitigate the cost headwinds and capitalise on the significant growth opportunities going forward".
CEO Agust Gudmundsson commented: "I am pleased with the overall performance in the period as like-for-like revenues exceed pre-pandemic levels and profitability improved considerably with all three regions delivering meaningful progress.
"We, and the industry, face a unique set of challenges in labour availability and this is also impacting the entire supply chain, contributing to raw material price inflation and logistics disruption. We are continuing to mitigate the impact of these issues by working collaboratively with our customers and suppliers, accelerating operational efficiency initiatives, and taking measures to attract and retain colleagues effectively.
"Our performance in the period and the continuation of these mitigating actions, combined with our track record of delivery through previous challenging periods over our thirty-five year history, gives us confidence in our full year outlook. We are pleased to reinstate an interim dividend which delivers value for shareholders whilst continuing to reduce the Group's leverage ratio."
On the markets this morning, the FTSE 100 has dropped another 0.8% to 7,094.3pts.
Risers include Bakkavor, up 5.6% to 117.2p, McBride, up 3.4% to 79.8p and Nichols, up 2.3% to 1,394.3p.
Fallers include Just Eat Takeaway.com, down 1.4% to 6,916.8p, B&M European Value Retail, down 1.3% to 533.4p and Britvic, down 1.1% to 962.5p.
Yesterday in the City
The FTSE 100 fell back 0.5% yesterday 7,149.3pts.
Baby boomer meal delivery business Parsley Box dropped 11.9% yesterday back to 107p despite strong first half growth as losses rose significantly to fund expansion.
Other fallers included Ocado, down 2.6% to 1,965p, Greencore, down 2% to 133.4p, Bakkavor, down 1.9% to 111p, FeverTree, down 1.8% to 2,243p, Deliveroo, down 1.8% to 353.6p, Devro, down 1.8% to 222p, Coca-Cola HBC, down 1.8% to 2,589p, B&M European Value Retail, down 1.6% to 540.6p, and McBride, down 1.5% to 77.2p.
Yesterday's risers included Marks & Spencer, up 3.3% to 187.1p, THG, up 3.3% to 684p, DS Smith, up 2.8% to 462.3p, SSP Group, up 1.8% to 266.4p, DS Smith, up 2.8% to 462.3p and THG, up 3.3% to 684p.