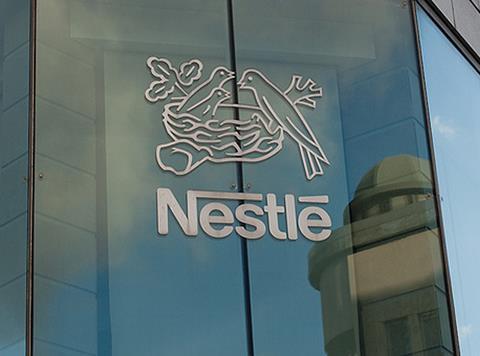 Top story
Rising prices, continued elevated demand at supermarkets and a recovery in the out-of-home channel has helped Nestlé boost organic growth by 7.6% in the first nine months of 2021.
The increase comprised of 6% of real internal growth (RIG) and 1.6% of higher prices, which accelerated in the third quarter to 2.1%.
Total reported sales in the period rose 2.2% to CHF 63.3bn (£49.7bn).
Nestlé said growth was broad-based across most geographies and categories as most of the world emerged from lockdowns.
Coffee was the largest contributor to the group's organic growth, fuelled by strong momentum for the three main brands: Nescafé, Nespresso and Starbucks. Starbucks products posted 15.5% growth, with sales reaching CHF 2.2 bn across 79 markets.
Petfood was also a strong performer, with Purina PetCare in double-digit growth, led by science-based and premium brands Purina Pro Plan, Fancy Feast and Purina ONE, as well as veterinary products.
Prepared dishes and cooking aids posted high single-digit growth, based on strong sales developments for Maggi, Stouffer's and Lean Cuisine. Vegetarian and plant-based food offerings saw double-digit growth, with continued expansion of the product range, led by Garden Gourmet. Dairy reported mid single-digit growth, based on sustained demand for fortified milks, coffee creamers and ice cream. Confectionery recorded high single-digit growth, supported by a strong sales development for KitKat.
Nestlé said it expected full-year organic sales growth of between 6% and 7%, with underlying trading operating profit margin of around 17.5%, reflecting initial time delays between input cost inflation and pricing, as well as the one-off integration costs related to the acquisition of The Bountiful Company's core brands. Beyond 2021, the mid-term outlook for continued moderate margin improvement remained unchanged.
CEO Mark Schneider added: "We are pleased with Nestlé's strong organic growth in the nine months, driven by broad-based contributions from most geographies and categories.
"The relentless focus of our teams on local execution and agility enabled us to navigate input cost inflation and supply chain constraints."
He said the group had increased pricing in the third quarter in "a responsible manner", while maintaining strong real internal growth.
"Investments in innovation, digitalization and sustainability further supported growth by enhancing the relevance and differentiation of our offerings."
E-commerce sales grew by 17.2% in period, reaching 14.1% of total group sales,with strong momentum in most categories, particularly coffee, Purina PetCare and culinary. Organic growth in out-of-home channels was 22.8%, helped by the further easing of movement restrictions in some geographies. Organic growth in retail sales came in at 6.6%.
Shares in the group rose 3.4% to CHF 116.82 this morning after the positive update.
Morning update
Deliveroo has increased its guidance for the year after demand remained strong in the third quarter despite societies reopening as lockdown restrictions eased.
Gross transaction value (GTV) increased 58% to £1.6bn in the three months to the end of September, although there was "a modest" reduction in average order value, which fell 6% to £21.40 as GTV per order continued to revert towards pre-Covid levels.
The group logged 74.6 million orders in the quarter, up 64% year on year – and by 171% compared with the same period of 2019.
Deliveroo said it demonstrated that growth momentum had been maintained despite the easing of lockdown restrictions in most markets.
In the UK and Ireland (UK&I), GTV increased 56% year on year to £852m. However, that represented a slowdown versus the second quarter when GTV came in at £921m, which Deliveroo said reflected "typical seasonality".
Order in UK&I totalled 35.8 million in the period, up 59%, with GTV per order down 2% to £23.80.
Internationally, GTV jumped 52% to £742m, wth orders up 70% to 38.8 million and GTV per order down 11% to £19.10.
Founder and CEO Will Shu said "We have continued to make good progress executing against our strategy, resulting in strong performance in Q3.
"This quarter we have partnered with Amazon to offer their Prime customers in the UK and Ireland access to our Deliveroo Plus subscription programme. We have also successfully launched a new rapid grocery service, Deliveroo Hop, in partnership with Morrisons.
"These are just two examples of innovations introduced this quarter that are consistently improving our consumer value proposition."
He added: "While we are mindful of current and potential macroeconomic disruptions and uncertainties, we expect further strong performance in the remainder of the year and we are increasing our full-year GTV growth guidance. We remain excited about the opportunity ahead and our plans to deliver better value to our consumers, help our restaurant and grocery partners to grow, and provide further opportunities for riders."
Shares bounced 4.2% higher to 302.8p on the positive momentum. The stock is still below its 390p flotation price, but it has climbed 25% in the past six months.
UK inflation slowed down in September as the boost from the reopening of society continued to drive consumer spending, according to official figures this morning.
The Consumer Prices Index revealed the cost of living fell to 3.1% last month, down from 3.2% in August.
The Office for National Statistics (ONS) said the slight decline was driven by prices in restaurants rising less than a year ago when the Eat Out to Help Out scheme was in force.
However, the ONS added that was offset by rises in fuel prices and in other categories such as furniture and household goods.
Food prices also fell more slowly than this time last year.
The FTSE 100 started the day in the red, falling 0.2% to 7,204.82pts.
Early fallers included McBride, down 3.1% to 65.7p and Virgin Wines UK, down 1.3% to 179.1p, while THG rose 2.4% to 333.2p and Finsbury Food Group was up 2.2% to 95p.
Yesterday in the City
The FTSE 100 edged 0.2% higher to 7,217.53pts ahead of the latest news on UK inflation this morning.
Rising cost pressures continued to slam fmcg suppliers.
Shares in McBride tumbled another 2.3% to 67.8p after the household goods makers issues yet another profit warning after costs continued to squeeze its margins. The group is down almost 19% in the year to date.
French food group Danone sank 3.2% to €55.49 despite it sticking to its full-year 2021 guidance in the face of higher costs and slowing sales.
Elsewhere, there was a sell-off at THG as investors cashed in profits from Monday's 20% jump in value following CEO Matthew Moulding relenting to City pressure and giving up his golden share. The stock sank back 6.4% to 326.6p yesterday.
There was some good news for Parsley Box Group as its shares rose 13.4% to 57.9p. The baby boomer ready meal provider has had a torrid time since floating, with the shares down from a 200p IPO price.
Fevertree Drinks and Bakkavor were both among the risers, up 3.4% to 2,531p and 3.2% to 128.4p respectively.