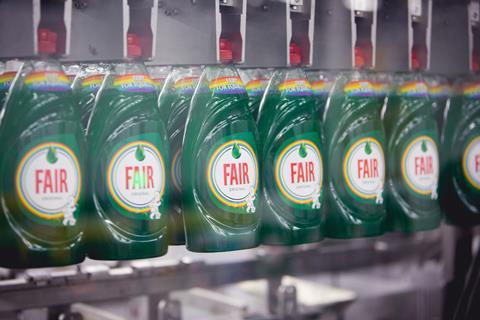 Procter & Gamble has said it will raise prices on more household goods, warning that supply chain costs would be higher than it had previously anticipated (The Financial Times £). Procter & Gamble is preparing to increase the price of more household goods including razors as it braces for a fall in profits because of higher commodity and freight costs (The Times £).
The new private equity owner of Morrisons has said that it will be "mindful" of the supermarket's heritage, culture and business model after shareholders voted in favour of the £7bn buyout by Clayton Dubilier & Rice (The Times £). Sir Terry Leahy hailed the 'heritage and culture' of Morrisons last night as he prepared for a dramatic return to the grocery sector's frontline (The Daily Mail).
Morrisons shareholders waved through a £7bn private equity takeover on Tuesday but not without a last-ditch rebellion from small independent investors (The Guardian). Morrisons shareholders have formally approved a £7bn takeover by US private equity firm Clayton, Dubilier & Rice after a bidding war (Sky News). Shareholders in the supermarket chain Morrisons have approved a multi-billion pound takeover offer from a US private equity group (The BBC).
Investors' appetite for rapid-groceries start-ups is showing no signs of abating after Gorillas sealed a $1bn funding round backed by Delivery Hero, the German online takeaway (The Times £).
$1bn Gorillas fundraising shows appetite for growth in rapid grocery delivery sector, writes Sky News' Ian King. The sector seems to have sprung up almost overnight – with expansion boosted by lockdowns and funded by billions of dollars from venture capital. (Sky News)
Restaurants and hotels are wrestling with "terrifying" inflation running as high as 18%, bosses have warned, as supply chain disruption and labour shortages wreak havoc in the hospitality sector (The Guardian). Food and drink firms are seeing "terrifying" price rises, a sector trade body has said, warning of a knock-on effect for consumers (The BBC).
Haulage industry bosses have told MPs that the shortage of lorry drivers and resulting crisis in the supply chain is not improving despite measures introduced by the government to try and alleviate the problems. (Sky News)
The billionaire brothers who own Asda are facing fresh scrutiny after loading the supermarket chain with yet more debt. (The Daily Mail)
The prices of supermarkets' own-branded bleaches and washing up liquids are set to rise after one of the country's leading suppliers warned that it was being hit hard by rising costs. (The Times £)
A Brewdog promotion which said customers could win "solid gold" beer cans was misleading, the advertising watchdog has found. (The BBC)
A group of international companies including Amazon, Ikea and Unilever have committed to using only zero-emission ships to transport their cargo by 2040, in the biggest step yet to decarbonise ocean shipping. (The Financial Times £)
The two most senior Vectura executives offloaded shares worth more than £6 million as part of the contentious sale of the respiratory drugs firm to one of the world's largest tobacco groups. (The Times £)