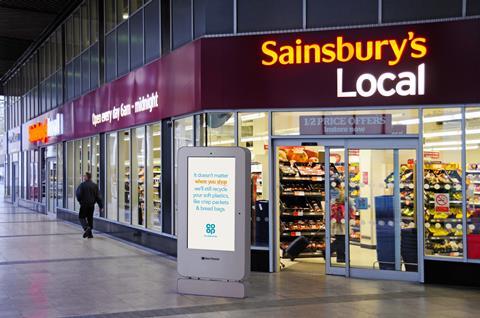 Co-op has taken its soft-plastic recycling initiative to the doorsteps of rivals with a cheeky out-of-home marketing campaign.
Several "hyper-targeted" billboards have gone up outside Tesco, M&S and Sainsbury's stores, informing shoppers Co-op stores now accept soft plastics like crisp packets and bread bags, no matter where they were bought.
"The ads have been targeted to be in sites as close as one metre from another supermarket to drive home this point," the Co-op said.
Earlier this month, Co-op rolled out soft plastic recycling units to 1,500 stores following a small trial in September. The units will be available at 2,300 Co-op stores by November.
The OOH campaign was created by Lucky Generals, the agency behind Co-op's television ad for the initiative, which launched last month. The billboards will be in place until the end of the summer.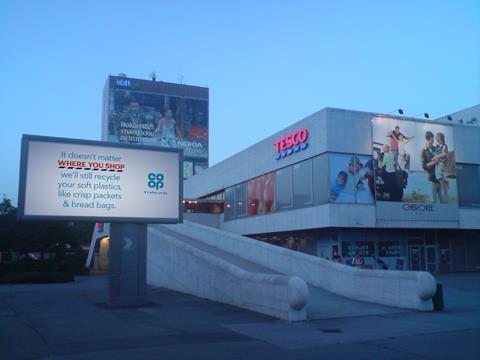 "When it comes to doing good, everyone's welcome at Co-op. So, in the spirit of co-operation, we put our ads outside competitors' stores to show that even if you shop somewhere else, you can now recycle your soft plastics at Co-op," said Danny Hunt, creative director at Lucky Generals.
The supermarket is also running a TikTok branded hashtag challenge – understood to be the first UK grocer to do so. The #CleanitScrunchitCoopit challenge prompts the TikTok community to demonstrate how easy it is to collect and recycle soft plastics at home.
Research by the convenience retailer shows while 92% of Brits are committed to recycling, nearly half of UK adults (49%) admit to putting items they are unsure can be recycled in their home recycling bins.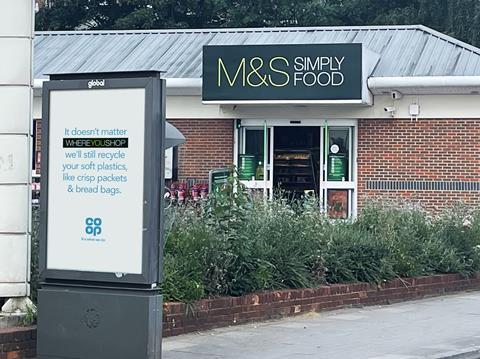 "The positive response to the launch of our in-store soft plastic recycling scheme, and the accompanying marketing campaign, has been amazing. When it comes to doing our bit for the environment, it shouldn't matter where you shop – we should all be working together," said Mel Matson, Co-op customer communications and propositions director.
Earlier this month, Midcounties Co-op launched in-store recycling points for soft plastics in more than 200 branches.