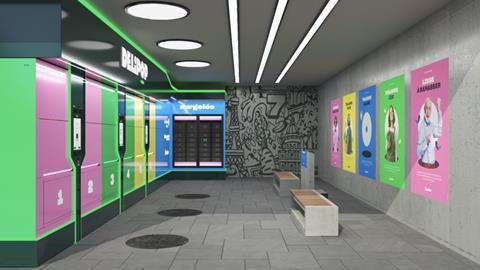 A newly formed joint venture is planning to roll out 500 automated click & collect sites across the UK within the next five years, for multiple supermarkets to use as customer pick-up points.
The locations, branded as Delipop, are entered by consumers using a unique code. They then pick up online orders from large drawers containing totes of shopping. A separate locker area serves frozen goods. Consumers will order groceries online through their supermarket as usual, and select their local Delipop location to collect from.
Delipop is a joint venture between robotics company Retail Robotics, which has produced more than 30,000 parcel locker units for Inpost in the UK and Europe while also developing its own machines, and an as-yet unnamed partner.
Behind the scenes of a Delipop site, the Retail Robotics machine, called Arctan, stores about 250 totes of groceries, which are served to the customer on demand. Delipop will collect orders from stores and CFCs where they have been picked and packed into totes, to replenish the refrigerated machine.
It is expected a typical Delipop location will be used by multiple supermarkets, though some may be used on an exclusive basis.
"Any retailer or brand will be able to co-operate with us. It will be like as a cash machine works with multiple banks," Retail Robotics chief business development officer Michal Mierzejewski told The Grocer.
Depending on the location, some sites will offer 24-hour collection, with flexible time slots.
Neil Lambert, CEO of Delipop UK and managing partner of investment firm InfiniumPartners, said the company was focused on establishing sites in "supermarket deserts". The locations will include commercial units on high streets "in order to have a frontage and get awareness out there".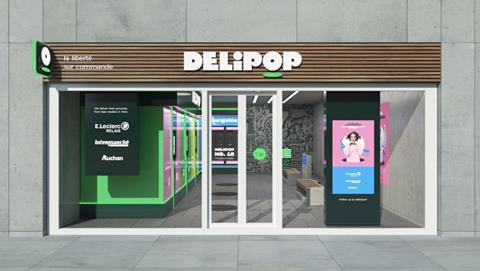 "We see Delipop being able to drive footfall, be that your coffee shop, fuel forecourt, travel hub or next to a convenience store, where you can buy what you forgot on the order you just picked up," Lambert said.
"It's accessing customer locations that can't be easily [accessed], because the retail estate isn't there or the capex is too high – we can drop in," he added.
A proof of concept Delipop site was trialled in Paris in August last year in collaboration with Carrefour. The site carried Carrefour branding and exclusively served the supermarket's products.
The first Delipop branded site will launch in Paris in September with three retailers. In France, Delipop is a joint venture between Retail Robotics and Star Service Group, which together have invested €20m to establish the first 30 locations. The ambition for the country is to have 12 Delipop points by the end of this year and up to 1,000 by the end of 2025.
The first UK site is set to arrive in the fourth quarter of this year, and the company is "currently signing up two exclusive launch partners".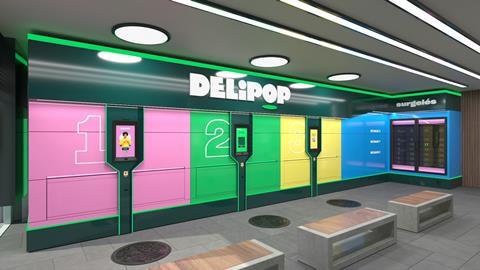 "We can see some locations would be exclusive for one retailer, but overall it's an agnostic network," Mierzejewski said.
Collection lockers close to transport hubs have been used previously by several major supermarkets. Tesco, Sainsbury's, Asda, Ocado and Waitrose launched grocery pick-up lockers at Tube stations as part of a TfL trial, but these were all quickly abandoned.
Their failure was due to inflexible pick-up windows, Lambert said, and because online grocery was not so popular at the time. "You still had to work your schedule around them. And it wasn't a permanent enough location for customers to build a routine around," he said.
With Delipop sites, the startup handles feeding the locations with fresh orders, with the retailer paying a fee per order or monthly subscription based on an agreed amount of totes delivered. Retailers set their own customer fees. The company claims retailers can fulfil orders for 10% less cost than delivering directly.
"This is a model that can drive profitability and reduce capex for retailers," Lambert said.
According to the company, 40% of consumers it surveyed would definitely or probably use Delipop to collect groceries, with the proportion higher among regular online shoppers and younger-age demographics.
The company's five-year target promises to put 1,000 UK households within a three-minute walk or drive of a Delipop location by 2026.