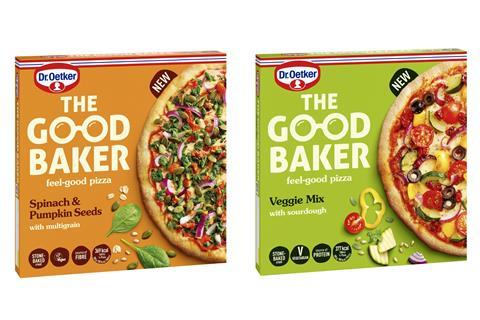 Dr Oetker has created a non-HFSS frozen pizza brand called The Good Baker in a bid to challenge preconceptions about frozen pizzas.
The brand has brought out four pizzas, each with a different crust: Margherita Multigrain with Flaxseeds, Meat-free Bolognese Multigrain with Sunflower Seeds, Veggie Mix with Sourdough, and Spinach & Pumpkin Seeds with Multigrain (rsp: £3.69-£4.19).
They are all meat-free, non-HFSS and contain 340 – 384 calories per half pizza. Plus, they come in fully recyclable packaging, with boxes made from FSC-certified recycled card.
Dr Oetker head of marketing for pizza Paula Wyatt told The Grocer that the supplier wanted to "unlock category growth with a new positive health brand".
Frozen pizzas tended to have "the lowest perception among consumers", she said. "It can become the 'make do' or 'emergency pizza'. We don't want to let high street takeaways have all the fun."
Health and sustainability were "more important than they have ever been", she added. "Before there might have been a tendency to focus on calorie control, or portion control, or low salt, but now people want to be more holistic and rounded in their approach to health."
However, shoppers were still expecting "great taste", she said. "Health puts a cap on people's consumption – you have to deliver great taste first, then make it healthy. Younger shoppers are buying frozen pizzas less often and have a lower perception. They are not coming in as frequently, and if we don't address this the category is only going in one direction."
The launch will be backed by a £1m push "hitting all the elements on the path to purchase", said Wyatt, including outdoor, press, door drops, coupons and in-store activity.
The pizzas will roll out from mid-September.