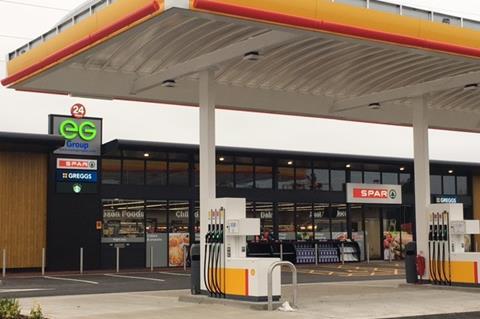 EG Group will continue to work with Spar on selected convenience stores despite the rollout of 'Asda on the Move' across its UK forecourt network, The Grocer understands.
It comes as the forecourt giant opened another Spar store in Scotland earlier this month in Coxton Park, Elgin, followed by the launch of Spar Euro Garages Heartland, Whitburn, that opened on Wednesday. These stores are supplied by CJ Lang, which now delivers to 21 Scottish Spar stores at EG forecourts.
The latest additions add to the roughly 360 EG Group forecourts that Spar currently supplies across the UK using its regional wholesalers.
It is however understood that these stores are expected to transition to the newly launched convenience store format Asda on the Move by 2023, after Asda was snapped up by EG Group owners Mohsin and Zuber Issa earlier this year.
So far, Asda has opened five of the convenience stores on EG Group forecourts since a trial launched in October last year. It has a target to open 28 more this year, and 200 by the end of next year. The next sites to open will be in Knowsley, Crewe, Skelmersdale and Holtspur from October.
EG Group's new 3,000 sq ft Spar site in Elgin is host to a raft of food-to-go options including sandwiches, hot and cold rolls and pastries.
There is also a drive-through Starbucks, a Greggs, an ATM and lottery available for shoppers, with fuel supplied by Shell. It will be open for 24 hours, seven days a week.
"We are very excited to see the EG Group Spar Elgin site open," said CJ Lang sales director Mike Leonard.
"The variety of facilities and services the site offers will deliver real benefits for local residents and visitors. This new forecourt sees our partnership with EG Group extend even further and we know this store will prosper in the future."