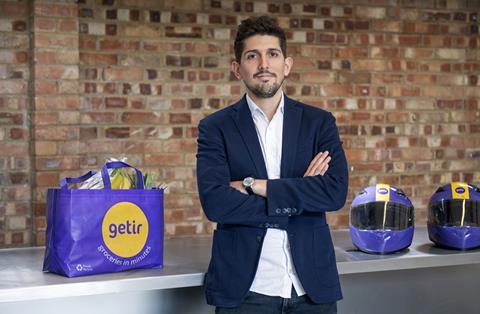 Getir has launched a franchise model in the UK, aiming to switch the operations of its growing number of dark stores in the UK over to franchisees.
Franchise holders are being sought to invest between £140,000 and £205,000, depending on the size of the dark store, and take responsibility for employing picking staff and couriers, as well as the day-to-day running of the location.
Getir hopes to switch "as many as possible" of its current 75 dark stores, which are located in 11 UK cities, over to franchisees.
Potential franchise holders are being promised a return on their investment within two to three years, "or even sooner based on the efficiency and speed of your store". As part of their investment, franchisees will receive "the premises, lease, staff and stock all included" an offer document seen by The Grocer states.
The franchise agreement includes KPIs around store efficiency and customer service, with bonuses and incentives linked to them.
"Our technology will support you in your growth, help you strive for high numbers of orders and we'll even guarantee you an income during your startup and growth," Getir has told would-be franchisees. "We're so confident in our business model that even once you're established, we'll guarantee a baseline income."
Getir will replenish the dark stores and handle all local marketing, with franchisees chiefly taking on "the last mile fulfilment, people management and hiring" Turancan Salur, general manager of Getir UK, told The Grocer.
"When you have small business owners operating these stores – it's a great way to bring the local community in the picture, people who know the neighbourhood, know who to hire, and will manage it much better because they're physically there all the time. It's a model we know works well," he said.
While new to the UK, Getir has been operating a franchise model in its home nation of Turkey for the past five years. As of June this year, the company has 560 franchisees across the country.
The company's first UK franchisee came on board last month and runs a dark store in central London.
While the model aids the company's expansion, its main purpose was to improve dark store performance and customer service levels, Salur said.
"The most important aspect is when you have people who are running their own business, they're very motivated and incentivised to do well," he added. "Everyone wants to succeed, noone wants to fail, and it's a point of pride for a lot of people. They do a better job managing and hiring people and making sure everything's in top notch shape compared to others, because it's their company.
"It's operationally more efficient and it means we get a better service for the customer," Salur added.
Salur added that "all the things that make Getir special" – like its use of electric vehicles and a living wage for employees – would stay the same.
Franchisees are being sought in London, Birmingham, Manchester, Liverpool, Bristol, Brighton, Cardiff, Cambridge, Southampton, Nottingham and Portsmouth.
Interest has been high, according to Salur. "When you look at franchise opportunities out there there's not much new or particularly exciting for younger generations," he said. "People want something technology based so it's an advantage."