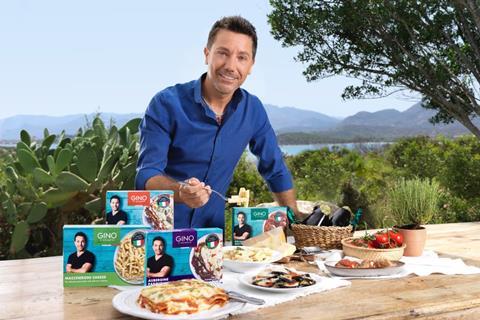 Celebrity chef Gino D'Acampo's range of frozen pizzas and other meals has been delisted by Iceland and launched instead in Asda.
Iceland made much fanfare over the D'Acampo range as it launched exclusively in its stores two years ago, saying it had been "created in collaboration" with the frozen food retailer. The launch gained widespread coverage in national media.
However, in a tweet at the time, Iceland MD Richard Walker also joked D'Acampo had been a "pain in the arse". The result was nevertheless "the most authentic Italian range ever", Walker's tweet said.
Like the delisted Iceland range, Asda's D'Acampo line-up includes Nonna's Margherita, Nonno's Cannelloni and My Mamma's Lasagne among other frozen meals.
There are about 60 products in the Asda range, also including chilled ready meals, stuffed pasta and sauces.
An Iceland spokeswoman confirmed the D'Acampo range had been delisted.
The range proved useful to Iceland in helping boost sales last year as shopper habits changed during lockdowns. In frozen pizzas, D'Acampo sales were worth £6.6m in the year to 28 November [Nielsen], making it the fourth most valuable brand in the category.
Speaking to The Grocer in October, Iceland trading director Andrew Staniland said "meal centres" in the range such as meatballs in sauce had also performed well as people spent more time in the kitchen preparing meals. Calling it a "luxury brand", Staniland said: "Gino is very much riding the wave of the sales that we saw over that period of time."
However, more recent sales data puts D'Acampo pizzas down £2.6m in value, or 42%, in the year to 17 July 2021 [Kantar].
Earlier this month Iceland launched several new exclusive brands in stores, including ranges from restaurants Ed's Easy Diner and Piccolino, ready meals from Cathedral City and desserts from celebrity chef and baker Mary Berry.
Explaining the sudden flurry of launches, which also included many new own-label lines, Staniland said Iceland wanted to be the UK's "destination for frozen food".
"Having been at Iceland a couple of years, it's been a direction within those two years to create those new brands and drive own-label innovation, to make sure as the largest freezer in the UK we're offering the most exciting ranges and we become the destination for frozen food," he told The Grocer last week.
He added: "We see a big correlation with transactions, sales growth and market share growth when we land swathes of new products, and that goes across exclusive brands, brands and own label."
Searching for 'Gino' on Iceland's website now takes shoppers to the Piccolino range.