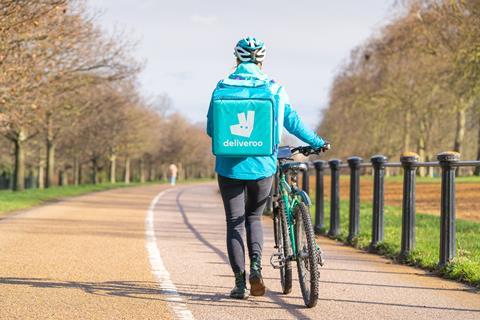 Deliveroo has partnered with Amazon to offer Amazon Prime members unlimited free takeaway and grocery delivery on orders over £25 for a year.
All new and existing Prime members – who pay £7.99 a month or £79 a year for membership – from today will be given free access to Deliveroo's Deliveroo Plus subscription service.
Deliveroo Plus was launched in the UK in 2017. It boasts "hundreds of thousands of subscribers" who get free delivery on orders over £10 at a cost of £11.49 per month. A Deliveroo Plus offering aimed at families and group households was launched in February giving customers unlimited free delivery on orders over £25 for £3.49 a month.
Deliveroo said Plus was "a key area of investment" and aims to "increase retention and loyalty".
The free delivery offer will cover all restaurants and supermarkets listed on the app.
Amazon Prime has more than 200 million paid members globally, who subscribe for fast and free delivery perks, access to movies and TV shows on Prime Video and other benefits. According to Mintel there are more than 15 million UK Prime subscribers.
"We're always looking for ways to offer even more value to Prime members giving them the best of shopping and entertainment," said Lisa Leung, director, Prime and marketing at Amazon UK. "That is why we are excited for this offer with Deliveroo – so millions of Prime members in the UK and Ireland can get the convenience of great meals delivered fast."
Deliveroo said the tie-up was expected to help it attract "new highly engaged and digitally savvy customers, distributed across all of the UK", and increase the loyalty of its existing 3.9 million UK & Ireland monthly users.
"Amazon is one of the most customer-focused and innovative companies in the world and we are excited to launch this offer for Prime members," said Carlo Mocci, chief business officer UKI at Deliveroo.
Amazon in August last year had its 16% investment in Deliveroo cleared by the Competition & Markets Authority, ending a 15-month investigation into the deal.