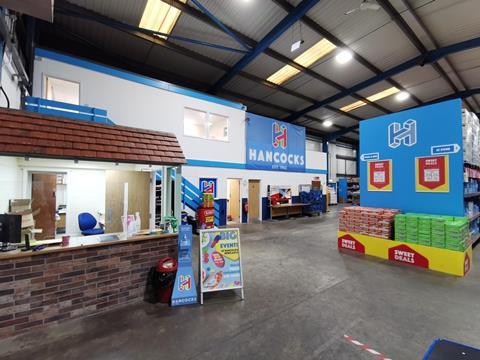 Confectionery wholesaler Hancocks has spent £60,000 refurbishing its cash & carry near Newcastle.
A new reception area has been created as part of the refit along with the replacement of all checkouts, aisle end boards, promotion areas and lighting. The building has also been painted throughout.
The Chester-le-Street site is the only one of Hancocks' 14 branches to undergo a revamp with no further investment planned.
"The relaunch has been hugely successful and early feedback has been terrific," said Hancocks COO Jonathan Summerley.
"Suppliers and local retailers were very impressed with the refit both inside and out and were able to have a good look round on the day.
"It also gave them both time to chat and catch up and for our team time, the opportunity to reconnect with customers who have taken to online ordering during the pandemic.
"Like all our stores, Newcastle offers traditional shopping as well as a click & collect option. Our online sales have grown considerably over the last two years, but the bricks and mortar stores are still and always will be hugely important to us.
"Not every customer likes to shop online, and we enjoy offering that personal touch and sharing our extensive confectionery knowledge which face to face interaction brings."
Summerley added: "We're delighted with the revamped Newcastle store and are looking forward to welcoming new and old customers back in. The upgrades we've made will make the shopping experience even better for them."
Hancocks' investment in a physical store follows the 200% upturn in online sales the wholesaler saw during the pandemic.