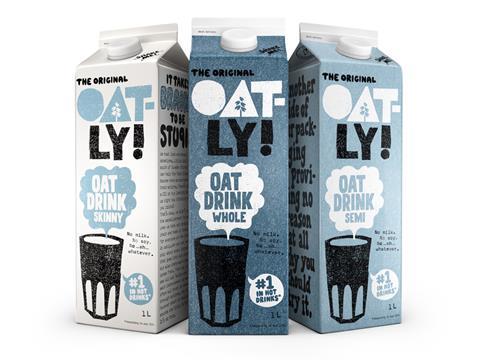 Oatly Group has revealed a more than 50% jump in revenues for the second quarter on the back of "growing global demand" for its range of oat-based products.
Despite the rapid growth in the three months to the end of June, losses at the Swedish business widened significantly, which Oatly partly attributed to costs associated with its blockbuster $10bn IPO in May.
Pre-tax losses soared to $58.8m, compared with $4.4m a year ago, as general costs increased, alongside employee-related expenses as the business expanded in preparation of becoming a public company.
Revenues in the quarter rose by 53.3% to $146.2m as the group increased its presence in the foodservice channel, where it supplies the likes of Starbucks, McDonald's and KFC, as well as the core retail business.
Growth was, however, offset by manufacturing delays caused by Covid and by getting new factories up and running, which hit sales by about $12m to $14m. Although, Oatly did benefit by roughly the same amount from currency exchange tailwinds.
Oatly forecast revenues for 2021 would increase by 64% in total to $690m, with accelerated growth in all regions.
CEO Toni Petersson said 2021 represented "the most transformational year in our company's history", citing the completion of the IPO – in which Oatly raised $1.4bn of fresh capital – as a key milestone to enabling scaling up across the globe to meet "robust" consumer demand.
"Our record second quarter revenues were in-line with our expectations and demonstrate broad-based growth across geographies and sales channels, despite certain Covid-19 and start-up related manufacturing headwinds we experienced in the quarter," he added.
"We're continually expanding global production capacity to support our long-term growth and launching key partnerships and distribution agreements with prominent customers globally. We're excited about the addition of our second manufacturing facility in Asia, which remains on-track to open in the second half of 2021, providing a second new source of local production to the region. Our new and existing production capacity gives us confidence in our ability to achieve an accelerated revenue growth rate in the second half of this year, while also extending our core values and mission for a more sustainable food system."
Despite the success so far in 2021, the group has endured a rocky ride since listing on the New York exchange. Shares initially soared from the $17 float price to highs of almost $29, but have since floundered. The stock fell 2.6% to $16.43 overnight on the back of the Q2 results release.
Short-selling hegde fund Spruce Point also released a stinging report about the company last month, which stated that the firm had "assembled significant evidence to suggest that the walls are collapsing on Oatly's ambitions to dominate the oat milk market".
The statement also took issue with Oatly sustainability claims and added that Spruce Point believed Oatly would "sorely disappoint investors and will never achieve profitability".
Petersson hit back and called the report "false and misleading".
Earlier this month, Oatly also hit by a High Court ruling in the UK dismissing the company's trademark claims against rival oat drink supplier Glebe Farm.