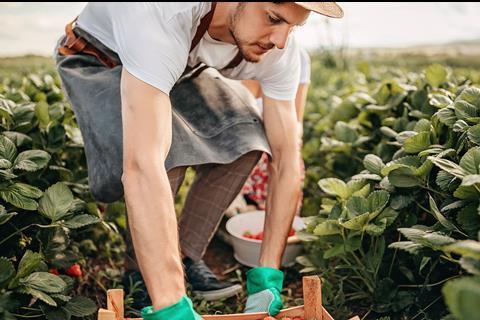 Growers could face "higher crop losses than ever" as the fruit and veg sector battles a deepening labour crisis, key industry figures warn.
With the shortage of seasonal labour hitting record figures and permanent staff said to be moving into other industries, the NFU, British Summer Fruits and British Growers Association have called on the government to change its post-Brexit immigration system to allow more workers into the UK.
The latest NFU figures from a survey of labour providers and large businesses at the peak of crop harvesting in July showed the shortage of seasonal workers stood at 34.5% – a figure that is only likely to rise when August's figures are released.
NFU Horticulture and Potatoes Board chairwoman Ali Capper said the previous high had been 22% and was recorded in the autumn months when the need for temporary labour declines.
Capper added she had been told shortages of permanent staff, who tend to work in packing and processing roles, stood between 20% to 35%, which had forced some businesses to close their doors for parts of the week. She claimed the government had thus far not responded to this evidence.
"It feels like such a car crash at the moment," she said. "Everybody's so short of staff and wages are inflating like mad. I'm hearing of wage inflation of anywhere between 15% to 30% year on year. That's on top of the 34% we've had in the last five years.
"When sectors are very short of labour, there are health and safety issues, worker welfare issues – all sorts of things start to bubble to the surface because when businesses are under pressure, that's what starts to happen."
Capper also said the situation had led to "inexcusable" levels of food waste.
In one case, East of Scotland Growers recorded a loss of 2.5 million heads of broccoli and 1.5 million heads of cauliflower at an estimated cost of £1.1m after a major crop flush in August combined with a 20% shortfall of workers and a lack of storage capacity due to the logistics crisis. It expected further brassica losses to be recorded in September.
Food waste spurred by labour shortages has also been seen in the berry sector.
"We'll have higher crop losses than ever and horticultural performance, in terms of yields and fruit quality, will probably have reduced because we haven't got the labour to conduct critical husbandry tasks on a timely basis," said BSF chairman Nick Marston.
He warned growers unable to undertake tasks like runner cutting and de-leafing could face "long-term effects" for yields, crop quality and therefore revenues.
Capper and Marston called for the Seasonal Agricultural Workers Scheme (SAWS) pilot to be given permanence as well as additional permits, with Capper also calling for more labour providers to be added to the scheme and for the inclusion of the ornamentals sector.
Both also urged the government to speed up its decision-making process. Defra announced the 2021 SAWS pilot would be extended to include 30,000 permits in December but only appointed two additional operators in late spring – a matter of weeks before harvesting began in earnest.
BGA CEO Jack Ward said: "Has the government got a plan, or are they asleep at the wheel? Is this all beautifully under control and they know exactly what they're doing? Or actually, have they not got a clue and genuinely we are all going to hell in a handcart?".
A Defra spokesman said the government understood "the importance of seasonal labour" to the sector, adding that the government would "continue to work closely with industry to understand labour demand and supply".