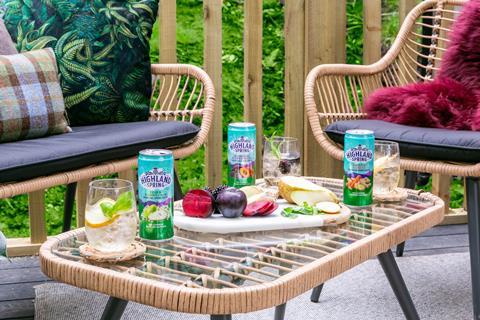 Bottled water brand Highland Spring has said the current logistics crisis is inhibiting its sales rebound from a Covid-depressed 2020.
Newly filed accounts at Companies House show the Scottish water supplier suffered a 12.3% drop in annual sales last year to £88.1m as the pandemic hammered out-of-home purchases.
The brand gained market share in retail channels, with branded sales volumes dipping by just 2.7% compared with a category-wide decline of 9.1% as demand shifted from smaller single bottles to back of store multipacks.
It had more resilience in the sparkling plain water category, which grew by 3.6% year on year in contrast to the plain packaged water declines.
CEO Les Montgomery told The Grocer that the wider category had since returned "close to" 2019 levels, but out-of-home channels remained "depressed" with travel, hospitality and leisure sectors still lagging behind 2019 volumes.
Furthermore, the recent shortage of HGV drivers and associated logistics challenges had also resulted in a "modest downturn of sales".
Montgomery said Scotland's position as a net importer meant there remained better vehicle availability to transport product south of the border. The brand continued to invest to mitigate the long-term transport challenges, he added.
"We continue to progress our own railway siding project, which will be operational in mid-2022, which will enable us to significantly improve our carbon footprint and will result in 8,000 HGV movements being removed from the road annually, protecting us against any longer-term issues," he said.
The brand's profitability improved in 2020 after a "disappointing" 2019 as it drove operational efficiencies and reduced overheads.
However, the drop in sales and adverse product mix meant it returned a pre-tax loss of £2.1m, following a loss of £2.4m in 2019.
Full-year operating profits from continuing activities before exceptional costs were £1.3m, which was £1.7m higher than in 2019.