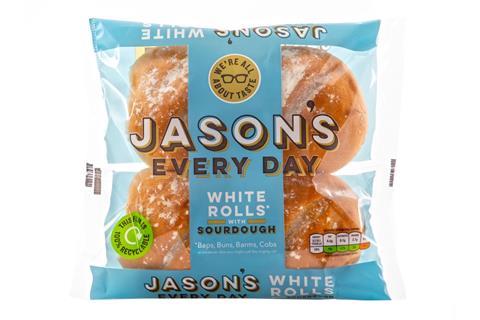 Jason's Sourdough is launching a duo of 'Every Day' breads into Waitrose.
The brand's new White Bloomer and White Rolls are made with sourdough but are touted as being "more suited to everyday occasions".
They are made by combining the brand's sourdough with traditional bloomer dough, allowing the bulk dough to ferment "to create a taste and texture packed full of flavour", said the brand.
They will roll into stores from 10 November (rsp: £1.40-£1.70/4x80g-800g).
Jason's Sourdough will support the launch with a TV campaign featuring its entire range of breads. It will be the first time the brand has appeared on the small screen.
The NPD marks the latest in a series of launches from the Geary's Bakery-owned brand: it launched a mass of new sourdough SKUs in April.
Three of its 'Breads of the World' launched into Asda's in-store bakeries. They were: New York Inspired, a classic white & rye sourdough with caraway seeds, Baltics Inspired, a white sourdough potato loaf with rosemary, and Italian Inspired Tear & Share, a flatbread combining sundried tomato and basil.
Meanwhile it launched two 'Straight Up' sourdoughs – The Great White and Majestic Malted – and one olive & basil 'Twisted Sourdough' into Ocado.
Geary's Bakery first launched Jason's in March 2020, debuting with a trio of 'Ciabattin' loaves made from sourdough culture.
However, it was given a revamp within its first year on the market to reinforce its craft credentials.
In November 2020, its name changed to 'Jason's Sourdough' as part of a "punchier and modern" rebrand that Geary's said would "bring Jason and the Geary family to life".
In December 2020, its Craft Beer Ciabattin was named The Grocer's Top Launch in the bakery category.