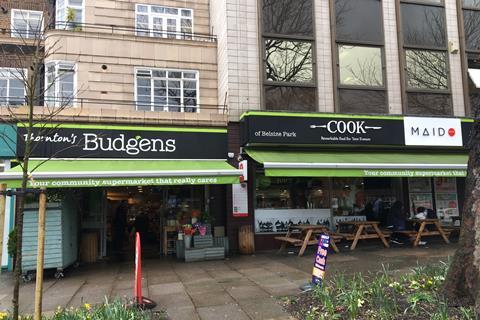 Kavanagh Group is to pump more than £1.5m into its newly bought Belsize Park Budgens store in a bid to uphold the legacy of former owner and plastic-free pioneer Andrew Thornton.
The takeover took place on 16 June, and the store is still trading as Thornton's Budgens.
The new owner, however, is meeting with A Plastic Planet next month to discuss more ideas and concepts for plastic-free zones that could be integrated into the store refurbishment.
These plans are set to be signed off by Christmas, with a view to start the work in April next year and be completed and ready for the store relaunch by the end of May.
"Andrew had done incredible work in the store and it has very much resonated with local shoppers, so it's something that we're very keen to continue," MD Noel Kavanagh told The Grocer.
"We're at the infant stages of what the new concept store is going to look like, but our sustainability and green credentials are very much a top priority."
The retailer is kickstarting the overhaul by relaunching the existing refill hub.
"We're just testing the waters with a few different ranges and concepts while we work in the background on what will be a much bigger job," Kavanagh added.
The new refill offering will go live on 5 October and is set to hold up to a 40% increase in product range.
"We're investing in new containers and equipment and looking at how to place it in a more prime position so we can display the product more attractively," Kavanagh said.
Previously, the refill section was offered to customers on three pillars but will now be displayed on a three-metre run at the back of the store, according to Zero Waste Refill Hub co-owner Gary Kemp, who is installing the solution.
The range includes a raft of granola and cereal lines, as well as nuts and seeds. Come the refurb next year however, the refill offer is also set to expand into health, beauty and household products. This will be a first for Kavanagh. "My anticipation is that there's capacity to double the sales in the range," Kavanagh added.
"We have tried to essentially take the baton from Andrew and continue to find new ways to remove plastic from the business. So with what will be a flagship store in our own estate, we feel this new store could potentially be a flagship on sustainability in terms of independent retail stores in London too."
The relaunch will also build on what has "historically worked very well" in the store, such as its sushi bar and deli, as well as its cheese and produce ranges, Kavanagh added. The investment will also go into new refrigeration in a bid to cut down on its carbon footprint.
The Kavanagh Group owns four other Budgens stores: Bishops Waltham, Eton, Hinchley Wood and Midhurst, as well 11 SuperValu sites.
The 3,000 sq ft Eton and Hinchley Wood sites have also recently installed the refill hub solution via Zero Waste.
"It only went in four to six weeks ago, but we've seen a really good uptake," explained Kavanagh. "And surprisingly, not just from people that are conscious of sustainability, but also the younger demographic customers have been very keen for that kind of product."