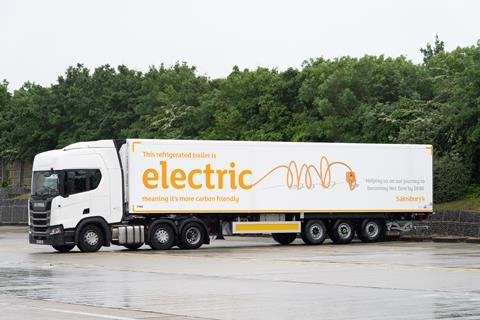 Government needs to support businesses achieve a raft of ambitious environmental plans, including the elimination of diesel refrigeration vehicles, by December 2039.
This is the call from the Cold Chain Federation, which today published a major new report called 'The journey towards emission-free temperature-controlled distribution on road vehicles'.
The report, which follows an 18-month consultation with cold chain businesses, sets out four key targets.
In addition to the eradication of diesel-powered TRU vehicles on the roads by December 2039, these vehicles should no longer be available for sale from 31 December 2029, the report says.
The remaining two milestones aim to banish the sale of vehicles with a 'global warming potential' of more than 300 by 2025, with the additional hope of removing these trucks from roads by December 2039.
The federation has warned technology is currently not ready to achieve these goals, and the infrastructure needs to be improved. Cold Chain Federation CEO Shane Brennan said he felt "let down" by government's previous promises of support for trialling and adopting emission-free technology.
He is calling on government to act in order to cut emissions.
"The cold chain is pulling out all the stops to keep food on our shelves in the midst of the industry's worst crisis in living memory," said Brennan.
"Despite the exhausting cumulative burden of the driver shortage crisis, disruption from Covid and major challenges related to post-Brexit changes, these businesses are committed to progress towards a net zero future by finding ways as an industry to phase out the use of diesel in vehicle refrigeration entirely. Government must start to play its part too.
"Transporting food at reliable low temperatures is so important to tackling the climate impact of food waste as well as to a safe and resilient national food supply, but a net zero food chain can't be achieved without overcoming the complex challenge of transitioning to emission-free refrigeration on distribution vehicles."