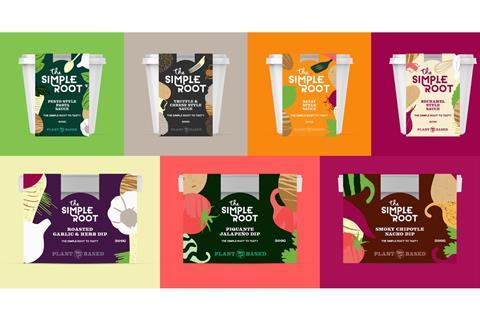 The Simple Root – a new brand of high tech vegan sauces and dips – is to make its debut.
The brand was created by McCain Foods and Pilot Lite Capital , and uses an "innovative technology", which gave potatoes and other root vegetables a "creamy taste and texture", said McCain.
Its products – which are made from a base of root vegetables, combined with other vegetables, fruits, herbs and spices – are free from dairy, gluten, wheat, soy and all other major allergens.
"Our patented technology truly delivers a creamy and smooth ingredient base so we can create dairy and nut-free versions of consumers' favourite foods, like cooking sauces, dips and cheese spreads, making it easy for them to easily upgrade their food choices, but with no sacrifice to taste or texture," said the brand's global technology officer Lora Spizzirri.
Four "highly versatile" cooking sauces will roll out in October. These include its Truffle & Cheese, Bechamel, Satay and Pesto & Parmesan-style sauces.
A trio of "on trend" dips – Piquante Jalapeño, Smoky Chipotle Nacho, Roasted Garlic & Herb – will also roll out.
Over time, the brand plans to expand its range to include plant-based cheese and dairy alternative products, snacks and meal solutions. It added it was also looking to innovate across beverages and desserts.
The versatility of its patented ingredient base would allow The Simple Root to deliver "a robust innovation pipeline of plant-based products", including "desserts that offer the indulgence that consumers crave, but without dairy or nuts", said CEO Louise Wymer.
It is not Pilot Lite's first venture into high-tech healthier foods, though. Earlier this year it formed healthy snacking brand Mindful Snacker after it acquired a £20m piece of manufacturing kit with the ability to produce crisps with 50% less fat than rivals thanks to a proprietary process using three different ovens to remove moisture from Amarillo potatoes.
It enlisted marketing and product strategy veteran Tara Quick to lead it as a standalone business and debuted an eight-strong range of non-HFSS crisps in April.