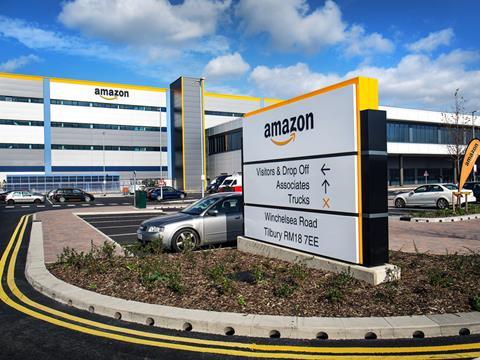 Amazon is hoping to defy worker shortages with a renewed commitment to the UK by creating some 2,000 new jobs as part of a 55,000-strong global recruitment spree (The Telegraph).
Amazon said it would hire the new UK staff for its offices in London and Manchester, as well as its "tech hubs" in Cambridge and Edinburgh (The Guardian).
Chief executive Andy Jassy said Amazon needed more staff to keep pace with expansion of its retail, cloud computing and advertising arms (BBC News).
Amazon's presence in the skies continues to grow rapidly, according to a new report, with an average of 164 flights a day now dedicated to moving the ecommerce giant's stock across the US (The Financial Times £).
JD Wetherspoon has suffered shortages of some beer brands due to a lack of lorry drivers, compounded by strike action, in the latest disruption to hit the UK's food and drink supply chains (The Financial Times £).
The pub chain Wetherspoon's is experiencing shortages of some beer brands, including Carling, Coors and Heineken, amid a Brexit-induced shortage of delivery drivers and industrial action (The Guardian).
Heineken and brewer Molson Coors said that like many in the industry, they had been hit by a shortage of HGV drivers (BBC News). Meanwhile, a Coca-Cola bottling giant also said Diet Coke was unavailable in some supermarkets owing to the driver shortage.
WH Smith shares tumbled more than 5% after the company issued a mild profit warning for the new financial year (The Mail).
The retailer's gloomy outlook for 2022 was in contrast with its recent trading, which has been strong enough for it to say that profits for this year will be "slightly ahead" of forecasts when it publishes annual results in November (The Times £).
Morrisons and Meggitt, two companies in the midst of bidding wars, have been promoted to the FTSE 100 share index as part of the London Stock Exchange's quarterly review (The Times £).
Footfall in UK high streets and retail parks last month hit its highest level since the start of the Covid-19 pandemic as increased domestic tourism boosted consumer activity (The Guardian).
Crisps are vanishing from office vending machines as suppliers opt for snacks with a longer shelf life instead because fewer workers are at their desks (The Telegraph).
Previously a niche, expensive product, period knickers are now readily available on the UK high street. Women explain why they are turning their backs on single-use pads and tampons (The Guardian).
A resurgence of pork supplies in China following huge losses from African swine fever has wiped about $75bn off the country's top hog-related equities, as the world's largest pig farmers grappled with the possibility that Chinese consumers had passed "peak pork" (The Financial Times £).
French luxury billionaire Bernard Arnault has sold off his remaining shares in food retailer Carrefour, ending a disappointing 14-year investment after a takeover attempt was thwarted earlier this year (The Financial Times £).
Inflation is putting pressure on fast-expanding dollar stores in the US as rising freight costs and wage expectations pose dilemma for chains known for $1 products (The Financial Times £).