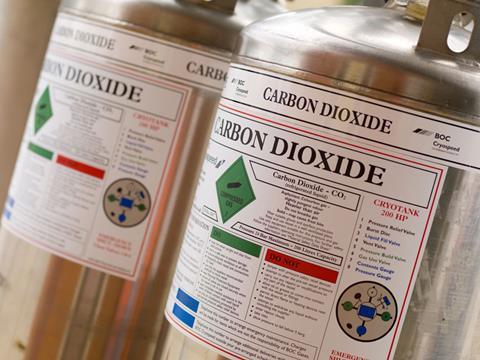 The government has struck a deal with a US company to restart production of carbon dioxide at plants in the UK after warnings of food shortages (BBC News).
The government will subsidise production at two fertiliser plants to maintain carbon dioxide supplies in a bid to avoid food shortages within days (The Telegraph).
Carbon dioxide supplies to the food industry will resume within days, Kwasi Kwarteng said today, as he revealed plans to subsidise its production owing to rising gas prices (The Times £).
The UK carbon dioxide shortage threatening industries from steel to food is spilling over into Europe, one of the world's largest distributors of the gas has warned (The Financial Times £).
The owner and one of the founders of Pret A Manger have given the sandwich chain £100m to double in size and open shops in five new countries, following a year in which its sales more than halved (The Financial Times £).
The sandwich chain, which closed almost 30 shops during the pandemic and laid off thousands of staff, said its plans were being backed by a £100m investment from JAB Holding Company, its majority shareholder, and its co-founder Sinclair Beecham (The Times £).
The coffee shop group is planning to open more than 200 UK and Irish stores over the next two years, expanding into the London suburbs, regional cities, retail parks and, through franchise deals, into travel locations such as railway stations and motorway services (The Guardian).
Two brothers who grew up helping out in their parents' off-licence in Hanwell, west London, have crystallised a fortune estimated at hundreds of millions of pounds after selling their online whisky business to Pernod Ricard (The Times £).
The resumption of major sporting events and children returning to school has given Compass Group's bottom line a boost in the last few months, a trading update has revealed (The Mail).
Compass Group said that, with ten days to go, its revenue in the three months to the end of September was expected to improve to about 86 per cent of the 2019 level (The Times £).
Quality Street has introduced the first white chocolate sweet to its tins in its 85-year history (The Guardian).
Researchers have found that cheese and cream may ward off heart problems (The Times £). A study using blood samples from more than 4,000 adults found that those with higher intakes of dairy fat had a lower heart-disease risk.