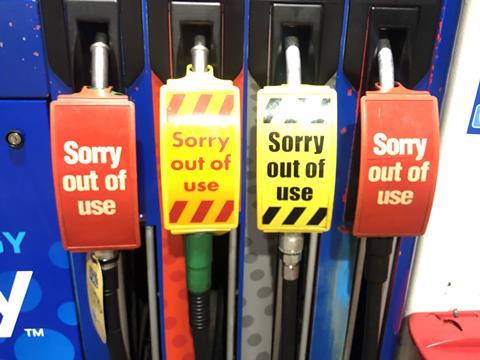 The UK's petrol retailers have called for an independent inquiry into the fuel crisis to ensure it does not happen again, saying the shortages are not easing quickly enough (The Guardian).
A leading industry body has accused the government of "inept prioritisation" – with London, the South East and the east of England still suffering from low fuel levels. (Sky News)
Mass panic buying of petrol helped to boost consumer spending to such an extent last week that overall spending on debit and credit cards has now recovered to pre-crisis levels. (The Times £)
Pig farmers are facing a "human disaster" due to a shortage of abattoir workers, the National Farmer's Union has said. Farmers are already having to destroy healthy pigs due to a backlog on farms, the union said. (The BBC)
Supplies of Quality Street chocolate are under threat this Christmas as its owner Nestle battles with staff shortages and delivery issues (The Telegraph). The maker of Quality Street has said the supply chain crisis may affect deliveries of some of its confectionery in the run-up to Christmas (The Guardian).
Majestic Wine has stockpiled more than 1.8 million bottles of wine in two additional warehouses before the crucial festive trading period. (The Times £)
Firms are increasingly putting up prices as they pass on soaring costs, according to new figures that are likely to add to fears of a squeeze on household budgets. (Sky News)
The end of the Government's furlough scheme did not lead to a significant rise in job losses, figures suggested yesterday. (The Daily Mail)
Checkout.com, one of Europe's most valuable private companies, had a 73% rise in UK and European sales last year as it benefited from the boom in online shopping. (The Times £)
Revolution Bars toasted a rebound in demand as the end of lockdown saw drinkers flood back into its watering holes. The chain said the lifting of restrictions triggered 'strong demand' with sales up by 17% compared with pre-pandemic levels, well ahead of its expectations. (The Daily Mail)
Tests in the UK have shown that artificial lightning can strip pollutants from animal manure. The technology entails firing a bolt of plasma at slurry to break up toxic ammonia and climate-heating methane. (The BBC)