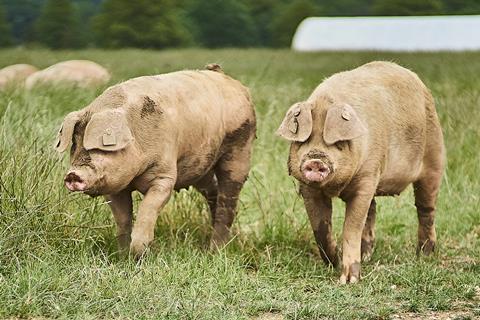 The number of pigs culled on farms as a result of the ongoing backlog crisis topped 6,000 this week.
However, the National Pig Association said it was hopeful of a breakthrough as The Grocer went to press on Thursday.
NPA CEO Zoe Davies said a further 600 animals were due to be culled by the end of the week due to the backlog of more than 100,000 pigs on farms across the UK – caused by the shortage of butchers in processing plants and the impact of a Chinese import ban on the wider European pork market.
But after reacting with dismay to the prime minister's dismissal of the pork sector's concerns last week, Davies said there had been "positive change" in its relations with government by Wednesday, with the Cabinet Office now directly involved.
Processors had also held a "very constructive" meeting with ex-Tesco boss Dave Lewis, who was brought in to advise the government on the supply chain crisis earlier this month, she added.
And with The Daily Mail making unconfirmed claims on Thursday of a potential "visa u-turn" that could allow 1,000 foreign butchers into the UK in the run-up to Christmas, Davies told The Grocer she was "hoping for an announcement".
Her hopes will have been raised further by a comment in the House of Lords on Thursday afternoon by Defra Minister Richard Benyon, who confirmed that an announcement on visas for the processing sector was "imminent".
The cull continued to take a "heart-breaking" toll on pig farmers, she added, with numbers set to rise significantly over the coming days. "But if farmers know there will soon be a solution, they will hold on," she said.
Defra was approached for comment.
It comes as AHDB and Quality Meat Scotland this week announced a levy holiday for pig farmers for November, in a bid to alleviate some of the stress on the sector, saving farmers nearly £1m.
"These challenges, in particular a shortage of skilled workers, come on top of pressure on margins largely due to rising feed costs," said AHDB pork board chair Mike Sheldon.
"The issues are extremely concerning and therefore require industry-wide action to prevent the situation deteriorating into an animal welfare issue."
Elsewhere, Morrisons, which is currently promoting several key British pork lines "to encourage our customers to support farmers and buy more pork products", said it had recently altered its requirements to accommodate for pigs growing larger in its supply chain.
The retailer added it had also set up new processes to take thousands more pigs weekly to ease pressures on farms.