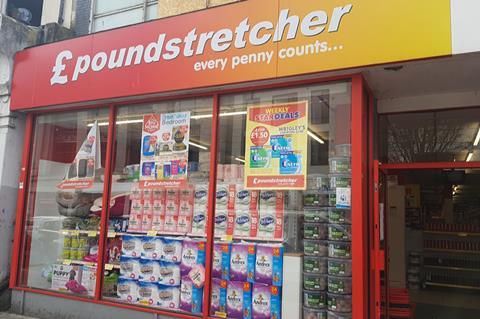 More than 60 landlords have served Poundstretcher with a notice to vacate shops after the variety discounter demanded they slash rents in a restructuring programme.
Poundstretcher launched a company voluntary arrangement (CVA) rescue plan in July last year, demanding rent cuts from hundreds of landlords while switching the whole estate to monthly payments.
The deal carved the estate into categories A, B or C. Landlords in B were told their premises were only viable with rent reductions, while those in C were deemed viable "only if zero rent is paid".
The rent concessions were to be in place for the duration of the CVA, but terms also said it was "not possible to state with any certainty" the length of that process.
However, the CVA also gave category B and C landlords the right to terminate the variety discounter's leases.
The number of landlords to pull the plug on the retailer has been revealed in a one-year CVA progress report filed at Companies House.
"In accordance with the terms of the CVA, the category B and category C landlords have the right to bring the respective category B and category C leases to and end by serving the company with a notice to vacate," said the report. "Since the approval of the CVA, 14 category B landlords and 49 category C landlords have exercised their rights under the CVA requesting the company to vacate the relevant sites."
Poundstretcher did not provide a comment on the 63 terminated leases.
Poundstretcher said in October store closures in the CVA would be offset by 50 new openings. But The Grocer revealed in July this year the estate had shrunk by 75 stores to 362 since the CVA launch, based on analysis by property data specialist CACI.
Under the CVA, only category A premises were deemed to require no changes to lease terms "other than to make the rent payable monthly in advance".
Stores on which Poundstretcher has recently been served notice by landlords include a former branch in Wrexham.
"Unfortunately we are closing our store after being served notice by the landlord to vacate the premises," a Poundstretcher spokesman told regional press last month. "We had been trying to agree new terms with the landlord for many months."
A wave of retailer CVAs during the pandemic has but the sector at loggerheads with the property industry over the restructuring process. Earlier this year, British Property Federation CEO Melanie Leech wrote to corporate responsibility minister Lord Callanan calling for changes to the UK's insolvency framework and accusing retailers of using CVAs to disproportionately heap costs onto landlords.
However, the BRC has maintained CVAs are one of the few ways a retailer in distress can keep trading, and argued any resultant rent cuts are usually designed to bring the payments up to date with falling property values.