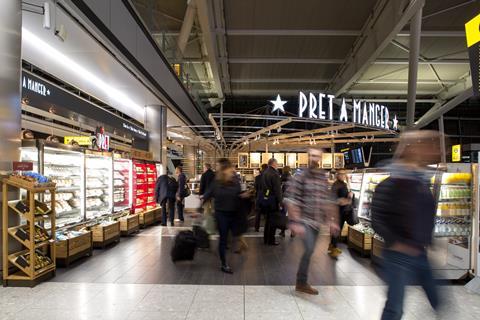 Pret a Manger is set to open in Canada thanks to a new tie-up with A&W Food Service.
The businesses reached an initial agreement today that will see Pret food and coffee introduced to A&W restaurants in Canada over a two-year trial phase. It is too early to disclose what sites these will include, The Grocer understands.
If the pilot is a success, the Canadian burger chain will be granted the exclusive right to expand the Pret brand across the country, depending on an agreed development plan. It consists of more than 1,000 restaurants, spanning from Vancouver Island to Newfoundland.
The move follows Pret's announcement last month that it would aim to double the size of the business within the next five years in a bid to bring more people to the brand. This includes plans to open 200 new UK shops over the next two years and hiring at least 3,000 team members and baristas by the end of 2023.
"We're still at the early stages, but we're really pleased to have agreed terms with A&W to bring our freshly made food and 100% organic coffee to Canada," said Pret a Manger CEO Pano Christou. "Last month, we said our aim was to expand into five new markets, and Canada is a fantastic country to start.
"Over the past year, we delivered more change than in 30 years of Pret history – and it's all about bringing Pret to more people in new markets around the world. The pandemic has shown that even at the darkest moments, more people want to experience Pret and I'm looking forward to working with A&W and seeing how Canadians take to the great taste of Pret."
A&W Food Services of Canada CEO Susan Senecal added: "A&W guests come to us for great-tasting food, made by people they trust. I'm delighted to embark on this exciting pilot, to bring the best of Pret to Canada, offering our guests even more delicious choices to love."