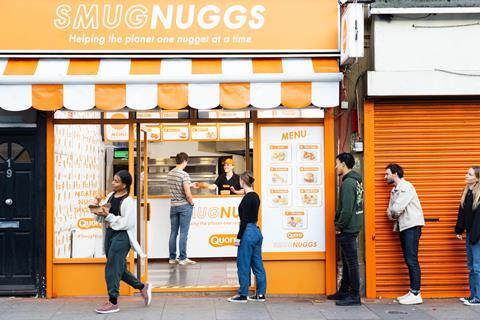 Quorn has opened a pop-up takeaway restaurant in London, serving meat alternatives to the nation's favourite chicken shop classics.
Camden-based SmugNuggs will be open for three days (until Saturday 25 September) serving eight meat-free dishes made from the brand's mycoprotein.
These include a kids meal featuring two Quorn Roarsomes – dinosaur-shaped chicken nugget-style pieces which first made their debut in March this year – as well as boxes of six individual nuggets, a nugget sandwich, nugget kebab, a larger nugget sharing bucket and a vegan option.
The idea for the pop-up was sparked after research by Quorn revealed almost half (49%) of British 18 to 24-year-olds were following a flexitarian or meat-free diet.
"We're on a mission at Quorn to make it easier for shoppers to transition into meat-free, without having to compromise on their favourite meals," the brand's marketing director Gill Riley said.
"We know our nuggets are already a shopper favourite with over 22 million servings sold in the past 12 months alone [based on Quorn sales data]," she added.
"Not only are Quorn nuggets super tasty, but they are better for you and the planet, producing at least 29% fewer carbon emissions than chicken nuggets [Quorn/Carbon Trust Carbon Footprint Report 2021], ensuring all our guests will leave SmugNuggs with that smug feeling."
Roarsomes, its first product specifically targeted at children, was launched after Quorn spotted a perceived gap in the market for convenient meat-free mealtimes.
The frozen NPD is made using the brand's mycoprotein base and sports a crunchy breadcrumb coating.