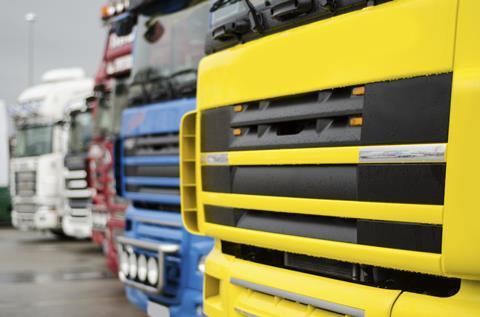 The Road Haulage Association has slammed the government's plans to relax the rules for overseas hauliers operating in the UK.
The proposal to the so-called cabotage system is the latest in a raft of measures being rolled out by government designed to ease the strain on the UK's faltering supply chain, caused primarily by a lack of HGV drivers.
The change to cabotage will allow foreign haulage companies to undertake unlimited work in the UK for a two-week block without the need for work permits or visas.
The government launched a week-long consultation on 14 October.
Under current rules, truckers from outside the UK can make two separate drops while in the country delivering goods from abroad. This was cut from three deliveries prior to Brexit.
"This proposal undermines the good work done already on training, testing of drivers and the improved pay and conditions we have started to see for drivers," said RHA MD for policy and public affairs Rod McKenzie.
"These two measures proposed by the RHA (and others) would make a difference to the availability of lorry drivers for UK companies," he added. "It is a shame that the UK government chosen not to proceed in a timely way on these measures and instead decided to offshore UK haulage work to unaccountable operators from outside the UK."
However, the trade association did concede the shake-up would "help deal" with the crisis in haulage availability within supermarkets.
FWD CEO James Bielby said: "This will undoubtedly help. An injection of labour into the market can only be a good thing. It is most likely to impact goods-in and allow suppliers to get product flowing out of warehouses more freely."