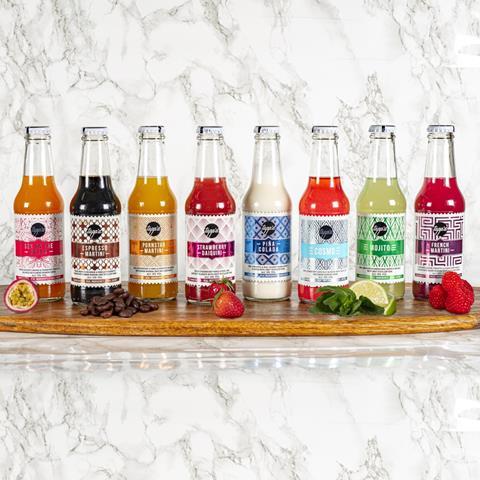 Handcrafted ready-to-drink brand Tapp'd Cocktails has beaten a £200k crowdfunding target as it gets set to expand its reach with a nationwide supermarket listing.
The eight-strong range of bottled RTD cocktails are already stocked in more than 550 Co-op stores across the South East.
A new offering of four flavours in slimline cans is ready to be launched with a supermarket partner in the "very near future", with the new range also targeting the festival, airline, hotel and food home delivery markets.
Tapp'd, launched by James O'Hara and Luke Davis in 2019, has currently raised more than £270k from 768 investors on Crowdcube – valuing the company at £15m – and is continuing to overfund.
It plans to use the money to expand the sales and marketing team and drive brand awareness in a UK-wide expansion programme.
"We are working tirelessly in bringing our drinks and the Tapp'd Cocktails experience to every corner of the UK," company director Tony Plato said.
"We are also looking at a non-alcoholic range to begin our mocktail offering with the ambition of launching this in time for Christmas."
Tapp'd produces its organic, vegan and gluten-free range of RTD cocktails, including mojito, espresso martini and cosmo, using natural ingredients and real fruit.
The business sold more than 1.1 million bottles in its first full year of trading, hitting the same amount in the first four months of 2021 – a 300% growth in monthly units compared to 2020.
Plato added the company was looking to operate a second bottling and canning manufacturing and distribution facility in Milton Keynes in the first quarter of 2023 to take capacity to 25-million units a year.