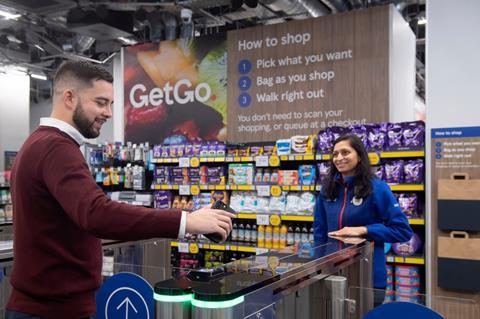 Tesco has opened its first public checkout-free store – GetGo – in High Holborn, central London.
The Tesco Express is fitted with cameras on the ceiling and on-shelf weight sensors that monitor customer movements and product picks so they are able to pick items and walk out without stopping at a checkout. Customers check in with the Tesco.com app at the entrance, shop as normal before payment and receipts are "settled digitally" via the app.
"We are constantly looking for ways to improve the shopping experience and our latest innovation offers a seamless checkout for customers on the go, helping them to save a bit more time," said Kevin Tindall, MD, Tesco Convenience.
"This is currently just a one-store trial but we're looking forward to seeing how our customers respond," he added.
The technology within the 225 sq m, 2,500-SKU store – akin to Amazon's rival Just Walk Out tech – is provided by Israeli startup Trigo. Tesco announced an equity investment in the company in 2019.
Trigo co-founder and CEO Michael Gabay said he looked forward to "transforming other Tesco stores across the UK".
Since 2019, Tesco has been testing the technology in a store at the supermarket's Welwyn Garden City headquarters.
The High Holborn store – which will feature a separate section for age-restricted products, with a separate exit where colleagues will manually check ID verification – will "create an even more convenient shopping experience for customers, saving time for those who want to pop in to pick up something for lunch or grab dinner on their way home" Tesco said. It will open from 7am to 11pm daily.
"We're excited to bring this new technology to customers in London. This new proposition will save customers time, removing any friction from the checkout and offering even more convenience for shoppers," said Guus Dekkers, chief technology officer at Tesco.
"Working in partnership with Trigo, we have combined the range, quality and value of Tesco products with the latest in-store innovation and we can't wait to see how customers respond," Dekkers added.
Trigo says its technology is GDPR-compliant and anonymises a shopper's movement and product choices. No biometric or facial recognition data is gathered or analysed.
In May, Trigo worked with Germany's second-largest food retail chain Rewe to start a rollout of its checkout-free technology, beginning with a store in Cologne.
It is also working with Aldi Nord, and Israel's largest supermarket chain Shufersal.
Checkout-free stores are expected to process nearly $400bn of transactions globally by 2025, according to Juniper Research.
The best-known adopter of checkout free tech – Amazon – has launched six checkout-free Amazon Fresh stores in the UK this year. More Amazon Fresh stores are expected in coming months "in the Greater London area" Amazon said.
Aldi is also set to launch a checkout free store, in Greenwich, south east London. Morrisons is also working on a checkout-free store at its headquarters in Bradford.