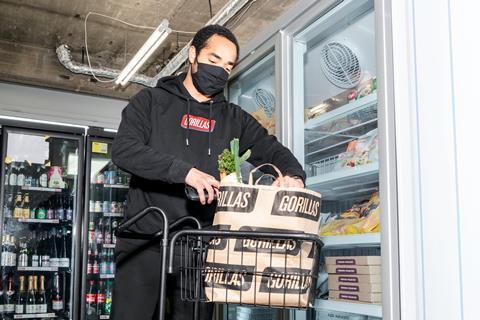 Tesco is partnering with rapid delivery company Gorillas to offer customers Tesco products to their door within 10 minutes.
The retailer and rapid grocer will establish "co-located physical warehouses" within five Tesco stores, from which deliveries will be fulfilled. The first store to be involved in the "commercial and real estate partnership" is in Thornton Heath, London.
"The idea that we can reach our customers in just 10 minutes is really exciting," said Tesco CEO Jason Tarry.
"We are committed to being easily the most convenient choice for our customers, enabling them to shop whenever and however they want," he added. "This pilot with Gorillas will help customers get their products right away, supporting those looking to buy food for tonight or last-minute forgotten items. We look forward to hearing what our customers think."
The pilot partnership comes a month after the launch of Deliveroo's rapid grocery delivery service, Deliveroo Hop. Deliveroo partnered with Morrisons to provide branded and own-label goods to its dark store in Vauxhall.
However, Morrisons serves only as wholesaler for the dark store. Gorillas described its Tesco partnership as "the first brand partnership between a quick commerce company and grocery retailer that extends beyond commercial aspects".
"The co-location partnership enables both brands to bring their strengths to the table and establish a quicker, higher quality, grocery offering to UK consumers," said Adrian Frenzel, COO at Gorillas. "Customers will not only be able to get the best of Tesco within minutes via Gorillas, but will be able to make the most of Tesco's extraordinary quality range via the Gorillas app.
"We're incredibly excited to be announcing this pioneering commercial and real estate partnership with Tesco," he added. "At Gorillas, we have established ourselves as a fast-paced company at the forefront of the on demand grocery industry, whilst Tesco is the leading retailer in the UK and a trusted household name nationally."
The five Tesco store locations will add to Gorillas' network of more than 200 micro-fulfilment centres, which have all been launched in the past year-and-a-half. Globally, the business has fulfilled about 4.5 million orders in the past six months, it said.
The quickest Tesco deliveries available until now had been via its Whoosh service, which promises orders to arrive within one hour. Whoosh quietly launched earlier this year, and has since been rolled out to 81 stores in selected areas of London, the Midlands, Liverpool, Bristol, Kent, Cardiff, Nottingham and Manchester.
The Gorillas partnership will not halt the expansion of Whoosh, with Tesco saying Whoosh will be "available in more areas soon".
Earlier this month, Gorillas secured close to $1bn in new funding led by takeaway courier company Delivery Hero. Delivery Hero also has stakes in Deliveroo and Just Eat Takeaway.com.