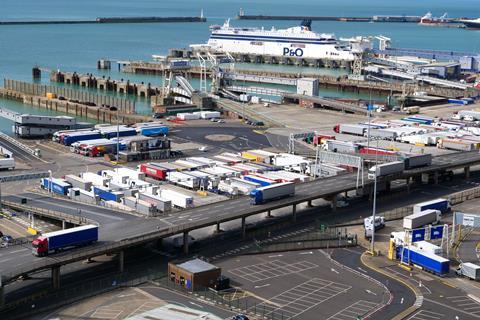 Brexit border checks on EU food and drink have been delayed until July 2022 in a bid to avoid further supply chain disruption.
While British exports to the EU have been subject to full checks since the start of the year, EU exporters to Great Britain will escape paperwork and border controls for at least 18 months after the UK's transition period ends.
Food industry bosses reacted with dismay at the lateness of the announcement.
"Businesses have invested very significant time and money in preparing for the new import regime on 1 October 2021," said Ian Wright, CEO of the Food and Drink Federation. "Now, with just 17 days to go, the rug has been pulled."
He said the move "penalises those who followed government advice and rewards those who ignored it," adding that government officials assured industry on Monday that the checks would be implemented as planned.
In a written statement, Lord David Frost said it was a "pragmatic new timetable" for introducing border checks.
"We want businesses to focus on their recovery from the pandemic rather than have to deal with new requirements at the border," he said.
Under the new proposals, customs declarations and controls will be introduced on 1 January 2022 as planned, but requirements for safety and security declarations will be delayed until 1 July.
Meanwhile the need for pre-notification of agri-food imports to the UK will be pushed back from 1 October until 1 January 2022.
Sarah Laouadi, head of international policy at Logistics UK, said that while the government had rightly identified some of the challenges facing the logistics industry, the second delay to import controls would only add to the current uncertainty for the logistics industry.
"What our industry needs from government is a guarantee that this new timetable will be adhered to, and that the border control posts required for physical checks that have just been postponed to July 2022 will be in place, with sufficient resources and political commitment to make it credible," she said.
The new timetable means:
The requirement for pre-notification of agri-food imports will be delayed from 1 October 2021 until 1 January 2022
The new requirements for Export Health Certificates will be delayed from 1 October 2021 until 1 July 2022
Phytosanitary certificates and physical checks on SPS goods at Border Control Posts, will be delayed from 1 January 2022 until 1 July 2022
The requirement for Safety & Security Declarations on imports will be delayed from 1 January 2022 until 1 July 2022