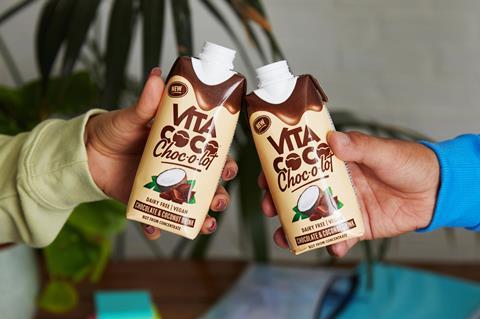 Vita Coco is moving into chocolate drinks.
The coconut water brand has launched Choc-o-lot, a limited-edition drink made with coconut in the place of dairy and containing fewer than 100 calories per 330ml carton.
The brand is touting it as a healthier alternative to rivals, and playing up its low sugar credentials – it is claimed to contain 37% less sugar than "other chocolate flavoured drinks".
The brand has partnered with nutritionist Jenna Hope to promote the launch, positioning the brand as the antidote to "the 3pm slump" on the basis that the drink is rich in potassium and vitamin C.
It will roll into Sainsbury's and Waitrose in one-litre cartons this month, as well as the Co-op in one-litre and 330ml sizes (rsp: £1.99-£3.75).
This year saw change at the top for the brand, which is a certified B Corp. In January its EMEA CEO Giles Brook handed over the reins to UK MD Tim Rees, while Brook moved into a strategic advisory role at group level.
The brand was this week revealed as a finalist in the Grocer Gold Awards.