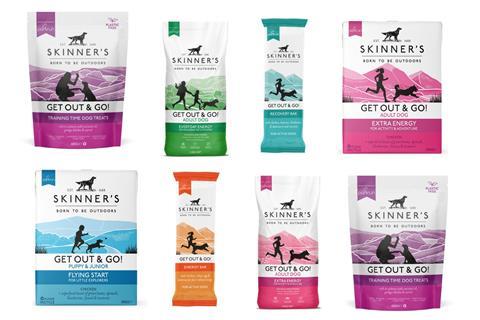 Dogfood brand Skinner's is looking to broaden its market appeal with a new range aimed at active dog owners.
Its Get Out & Go range, which includes dry and wet food, energy bars and treats, was specially formulated for dogs who were "born to be outdoors", it said.
It aimed to inspire consumers to get out with their dogs and targeted "the dietary needs of dogs that go on woodland walks, long runs and intrepid trails", said Skinner's.
The products were grain-free and contained 100% natural ingredients, which were locally sourced where possible, to ensure all dogs maintained peak health, it added.
They are available to buy online via the brand's website now (rsp: £1.29-£54.99/35g-10kg).
The company invested in a new manufacturing plant to produce the range, which is packaged in fully recyclable Tetra Recart.
Skinner's CEO Tim Hansell said it met the needs of today's consumers, "who are more active with their dogs and who care about the environment".
"Get Out & Go lets the consumer and their canine companion enjoy many adventures together, whilst ensuring that the dog stays at optimum health and weight", Hansell said.
It comes after Skinner's bought a majority stake in branded natural wet dogfood producer Naturediet last October.
At the time, its chairman Roger Skinner said: "By combining Skinner's and Naturediet, we are bringing together expert manufacturing capabilities across both dry and wet dogfood, which should unlock significant future growth and new product development opportunities for both brands."