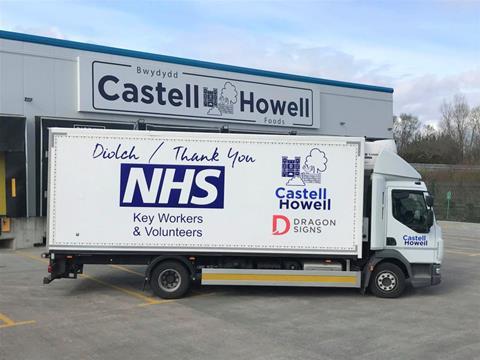 Welsh foodservice wholesaler Castell Howell says it has been forced to increase driver wages by 24% since April in a bid to combat the labour shortage crisis.
The increase has been applied to 120 drivers while it has also increased pay to workers in its six depots by 8% this year.
Finance director Nigel Williams told The Grocer competition for warehouse staff has increased in recent months as Amazon's fulfilment centre in Swansea has attracted swathes of workers.
Williams was speaking after Castell Howell filed its latest financial results on Companies House.
The wholesaler reported a fall in sales of 28.4% to £102.5m for the 12 months to 31 October 2020. Pre-tax profits fell 24.5% to £3.8m for the same period.
Sales were significantly impacted by the forced closure of its hospitality sector customers during the pandemic. The wholesaler said at one stage sales were down 40% but are now returning close to pre-pandemic levels.
Williams said without the job retention scheme, which was used to furlough around 50% of its 600-plus staff, and the Welsh government's sector-specific support from the Economic Resilience Fund, the business would have posted "significant losses" rather than a "reasonable profit".
During 2020 the wholesaler made 42 redundancies, but it is now operating with around 100 fewer employees than it did before the pandemic.
To mitigate the current staffing issues, Williams said it has brought the order deadline for next-day delivery forward from 10pm to 8pm to give staff more time to pick and load goods.
In addition, lorries now carry heavier loads and operate across fewer routes.
"Since reopening, trade has recovered strongly and is already close to 2019 levels, with the public in general wanting to enjoy hospitality following several months of lockdown and the vast majority planning to holiday in the UK again this summer," said Williams.