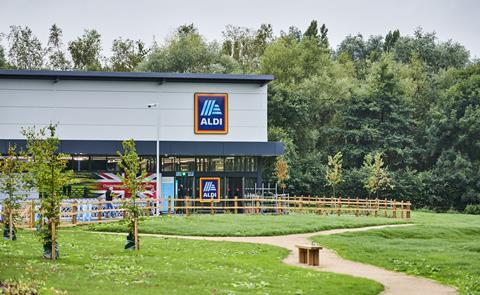 Aldi is falling behind on long-term estate expansion targets, its latest store numbers have revealed.
As reported by The Grocer, the discounter this morning announced it would open 15 UK stores by the end of this year. With a current estate of "more than 930", it is set to bring the total to about 950.
That will leave Aldi needing to open more than 80 stores a year to reach its long-term target of 1,200 by 2025. When CEO Giles Hurley set the target in October 2018, the discounter had about 775 UK stores, meaning it then needed to open fewer than 70 a year.
The latest numbers also put Aldi behind on an earlier target, of 1,000 UK stores by 2022.
The discounter has faced disruption to its opening plans thanks to construction delays in the pandemic.
Retailers are also said to have faced delays in securing planning permission, with council staff working from home, while competition from Lidl for suitable sites may be heaping further pressure on Aldi's plans.
Lidl has a target of 1,000 UK stores by 2023, up from a current 880.
Analysis for The Grocer in June suggested both discounters would miss their targets by 12-24 months as they competed to find sites matching their existing estate profile, which showed a preference for being at least 1km apart from each other.
Aldi's announcement this morning did not mention the 2025 target.
A spokeswoman subsequently told The Grocer: "As part of our two-year £1.3bn investment plans, we expect to open 100 new stores during 2022 and 2023 as we work towards our 1,200 store target."
Lidl also maintains it is on track to hit its target.
Locations set to gain an Aldi by the end of the year include Edinburgh, Orpington and Poole, with each new store set to create an average of more than 30 jobs.