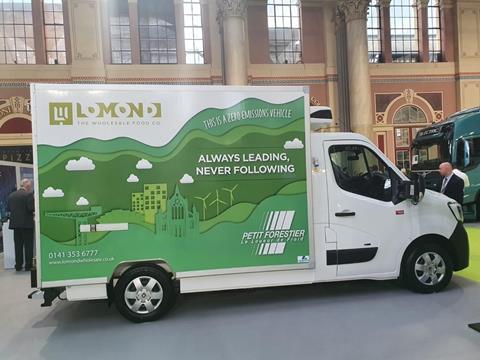 Scottish foodservice wholesaler Lomond has acquired 20 new hybrid refrigeration vehicles.
The 7.5-tonne trucks have been modernised to power the refrigeration units with a battery, replacing the original red diesel engine.
The move also strips out weight which means an additional 1.3 tonnes of stock per vehicle can be carried.
Lomond director Barbara Henderson said this will "lead to increased efficiency in our business and less vehicles on the road".
"While the government monitors carbon emissions from vehicles, they don't monitor emissions from refrigeration, which is actually six times more polluting than the category six engines," added Henderson.
The new lorries add to the fleet of electric company cars that Lomond introduced during 2021 for its field sales team. All team members have electric chargers fitted to their homes.
The wholesaler has also bought a fully electric van to be used in the local area, which has been branded in green to promote its green credentials.
The rest of the new fleet will be emblazoned with the words 'Always leading, never following'.
"We are firmly committed to doing the best we can to reduce our carbon footprint and ensure we take decisions that reduce our impact on the environment, and our vehicles are a major element of this," said Barbara. "We also take measures within our depot, such as fitting an air curtain to reduce energy wastage, and carrying out heat surveys to ensure energy efficiency."