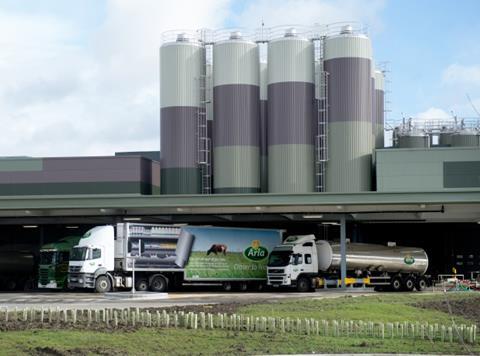 Arla Foods UK has warned of a "much more challenging" second half of the year despite posting strong results for the first six months of 2021.
Speaking to The Grocer as it reported a 3% year-on-year rise in UK revenues to £1.1bn, the supplier's MD Ash Amirahmadi described 2021 as "like a game of two halves".
"I don't believe we are going to have as strong a performance in the second half, but the key here is to accept the new realities and it's about how we navigate them," he said.
The dairy co-op's well-documented difficulties in fulfilling supermarket milk orders this summer were expected to continue until the second week of September "as a best forecast", he suggested, with the challenges expected to impact its H2 results.
And until that point, Arla did not "expect any sort of let up" in those difficulties – caused by the food industry-wide HGV driver crisis – which had seen the business fail to fulfil about 10% of its planned orders since July, rising to 25% on some weekends.
"I think it will [then] improve a bit, but everything our hauliers are saying to us is this is not going to suddenly be sorted after the holidays," he warned. "Dairy is very mechanised, but on the driver side you obviously need people, and we see that [wider food industry] issue continuing well into Q4 and potentially into 2022."
As a long-term solution Arla has launched five new academies in a bid to attract new blood to the business. But Amirahmadi warned more needed to be done by government to make concessions on access to foreign HGV drivers and to improve apprenticeship provision – particularly within smaller food companies.
His comments come in the same week as the supplier's global parent Arla Foods amba reduced its farmgate milk price by one euro cent from 1 September, citing inflationary challenges around fuel, energy, packaging and feed.
Arla also confirmed this week it had halted supply of its milkshake mix to McDonald's stores in the UK, due to the fast-food chain's own supply chain issues.
But despite these challenges, he stressed the importance of remembering "what we have achieved" so far this year.
Its sales growth over the first six months of 2021 had been driven by a 4.6% increase in strategic branded revenue, with Cravendale sales up 10%, Arla protein milk sales up 34% and B.O.B. milk sales up 21%. The full Arla branded range saw value sales grow by 13%.
Arla's stable of licensed brands also performed well, led by its ready-to-drink Starbucks portfolio, which grew 42% in volume in the UK.
Demand for dairy had remained strong so far this year, Amirahmadi said. "[But] whilst we do expect our brands to continue to perform well in the market, we will also see some retail demand being replaced by out-of-home consumption over the second half of the year."
However, he stressed if this were the case, it could also further boost sales in Arla's foodservice operation, which had grown by 21% in H1.
Meanwhile, total Arla Foods amba group revenue increased slightly by 1.2% to €5.441bn in the first half of the year. The company is adjusting its expectations for full year revenue for 2021 to the range of €10.6bn to €11.0bn.