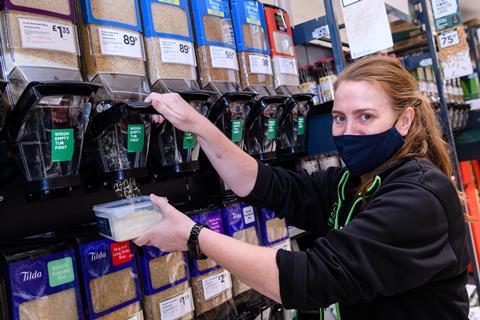 Asda has introduced its second 'refill store', selling a range of branded and own-label products in loose format.
The store in Glasgow Toryglen is the first Asda in Scotland to gain dedicated aisles of dispensers from which customers can fill either their own container or a reusable one available to buy.
Asda's refill stores, the first of which opened last year in Middleton, Leeds, offer household brands without the usual packaging thanks to a ground-breaking tie-up with fmcg giants such as Unilever, Kellogg's and Nestlé.
The loose-format range at the Toryglen store will include a wide selection of Kellogg's cereals alongside Nestle's Shredded Wheat Bitesize, Quaker Original Oats and Asda own-label lines.
Unilever's Alberto Balsam shampoo, Radox shower gel, Simple hand soap and Persil laundry products will be sold in 'prefilled' reusable containers that shoppers can return when empty to a reverse-vending machine at the store. Customers will get a £2 voucher for each shower, hair and soap bottle returned and £3 for each Persil container, which Unilever will clean and reuse.
Meanwhile, a range of teabags from Yorkshire Tea will be available loose, alongside coffee beans from Taylors of Harrogate.
The refill aisles will also feature 12 varieties of own-brand and Napolina pasta, as well as Tilda rice.
'Feature bays' from P&G and EcoRefill will offer shampoos and cleaning products in refillable containers.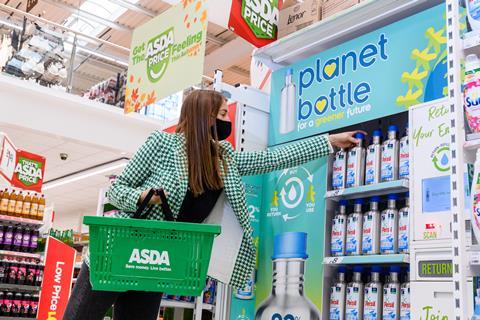 All the unpackaged products are either the same price or cheaper than packaged equivalents, according to Asda.
The expansion of the pilot to the Glasgow store comes ahead of the city hosting COP26, the 2021 UN climate change conference, in November. The refill initiative is also set to reach the Milton Keynes and York stores by the end of the year, in Asda's drive to remove three billion pieces of single-use plastic from its business by 2025.
"We have chosen Scotland as the location for our second refill store because it is an important market for Asda and a place where we regularly receive constructive feedback from our customers," said Asda director of commercial sustainability Susan Thomas.
"This feedback is very important to us as we refine our refill offering in stores and work towards a goal of making refill and reuse part of every shopping trip.
"With COP26 coming to Glasgow, there has certainly been an increase in interest in environmental issues across the country, so to see refill land in the host city and with such engaged customers is a really important moment for us."
Last week, in a partnership with Loop, Tesco launched a range of branded and own-label products in reusable containers at 10 stores. Shoppers pay a small deposit for the container, which is refunded when they return it empty to collection points to the stores.