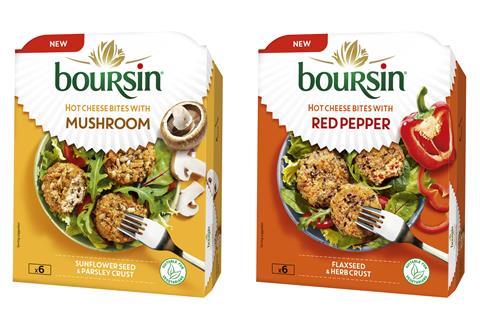 Bel UK has taken its Boursin brand into the hot cheese segment with the launch of a pair of Hot Cheese Bites.
The NPD will go on sale in Asda in October and Morrisons in November and combines vegetables with Boursin's cheese, coated in a thin crunchy crust made with roasted seeds.
It will be available in the two retailers in red pepper and mushroom variants (rsp: £3/150g), with Tesco also set to roll out the red pepper variant in November.
Suitable for vegetarians, with no artificial flavours or colours, the launch tapped emerging trends around flexitarianism, as well as the overall shift towards 'assembled' evening meals, especially with families, the brand sai. It was fit for a variety of occasions – from a formal party nibble to a casual meal accompaniment or snack.
The product can be cooked in the oven or straight in the pan, taking less than 10 minutes to prepare.
"With a clear consumer interest in practical yet tasty options, the launch of Boursin Hot Cheese Bites creates big opportunity for retailers to attract new and light users," said Boursin senior brand manager Celina Leroyer.
"Highlighting our continued focus on consumers enjoying indulgent moments with Boursin all year round, Hot Bites offers a hot version of the Boursin consumers know and love, with a warming and delicious twist."
To support the launch, a wider marketing campaign for the Boursin brand will include shopper marketing with a mix of in-store and online activations to drive awareness at point of purchase, promotions, PR, influencer and sampling activity.
The launch follows a move into hot cheeses by Lactalis last year, with the launch of Président Brie Bakes and Seriously Cheese Nuggets.