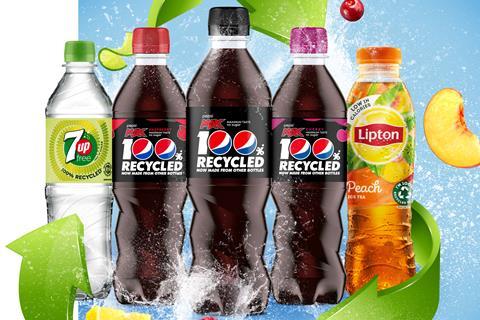 Britvic is to move all of its on-the-go drinks bottles to 100% recycled plastic by the end of 2022.
The soft drinks giant will have moved all 500ml and 600ml bottles of its Pepsi Max, 7up Free, Tango, Robinsons ready to drink and Drench brands into 100% rPET by the end of this month.
Its 500ml bottles of Lipton changed to 100% rPET this summer. Mountain Dew will follow suit in December 2022.
The move will be supported with on-pack messaging across selected brands, in-store and outlet activation via PoS materials and a new Pepsi Max TV advert.
Britvic commercial sustainability director Tom Fiennes said it had "already made huge progress" towards its "intention that all bottles produced and sold by us in GB will be made from 100% rPET by the end of 2022".
Britvic said it had commissioned independent research that revealed 80% of consumers thought it was important brands used recycled plastic, with over half (58%) stating they were more likely to choose a soft drinks brand that communicated its use of 100% rPET on-pack.
It also suggested 60% of Brits would return to a specific store if it stocked products that used recycled plastic.
Fiennes said: "This goes to show how important it is for retailers, and operators, to offer a range of sustainable products and that this can affect shopper loyalty."
It comes after the soft drinks giant announced a host of carbon reduction targets in December 2019.
It said it planned to halve emissions from its own operations by 2025, achieving net zero emissions by 2050.