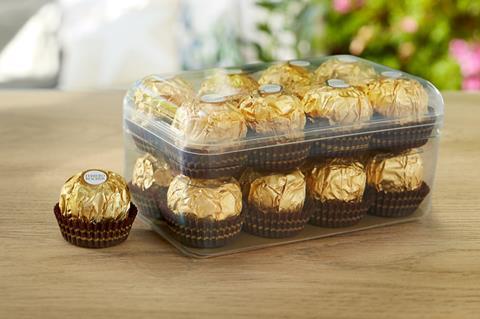 Ferrero is moving its Ferrero Rocher brand into fully recyclable packaging.
It will introduce the new "eco-designed" boxes in a phased rollout this month, starting with its 16-piece and 30-piece boxes.
The new boxes are made from polypropylene and touted as having a 30% smaller carbon footprint. The switch of material – they were previously made from polystyrene – enabled "easier recycling globally", said Ferrero.
As they used less plastic than the old ones, the rollout would help Ferrero save approximately 2,000 tonnes of plastic globally in its first year, it claimed.
The R&D team worked with materials manufacturer Milliken to develop and trial over 29 different plastic resins before settling on the final protoype.
The new packaging was a "clear example of our dedication to enhancing packaging circularity", said Fábio Mora, global packaging director of the Ferrero Group.
The company was committed to building a more circular economy through "packaging-related strategies, joining forces with governments, manufacturers, suppliers, waste disposal management companies, NGOs and others", Mora added.
The move comes as part of the fmcg giant's commitment to make all its packaging reusable, recyclable or compostable by 2025.
Last month, the confectionery and biscuits giant took its long-standing Rocher brand into chocolate bars for the first time.
The 90g bars, which launched in 'original', dark and white flavours, would tempt "lovers of the brand to try the chocolate in a different way" and traditional chocolate bar shoppers "to trade up to something special", said Ferrero.