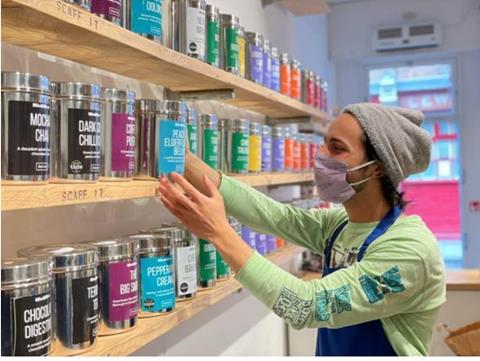 Bird & Blend Tea Co has raised more than £1m after closing its crowdfunding campaign, beating its target by £700,000.
More than 1,800 investors backed the tea retailer in the 30-day campaign, with the business hitting its £300k goal in just two days.
It takes the total raised by the company from the crowd to more than £1.3m, following an initial campaign in 2017.
The money raised in the new round will support its expansion on the high street, investment in the wider development of its range of flavours and building its digital community.
Co-founder and MD Mike Turner said: "This level of funding will support our strategy of developing our e-commerce experience, plus allow for more investment on local high streets, delivering our new hybrid model further around the UK, creating more local community hubs where customers can come to make connections with one another and our team, and enjoy interacting with our teas. For us, there will always be a place for magical in-person experiences."
This crowdfunding round caps a transformative 12 months for the business, which has opened six new stores and launched a new website supporting its need to move to a hybrid model during the pandemic.
This new model offers its customers the choice of bricks-and-mortar stores and in-person experiences and an online DTC site.
Bird & Blend – formerly known as Bluebird Tea Co until a name change – has grown from packing tea in a bedroom and selling at market stalls to operating 13 stores across the UK. Its DTC website also offers a range of more than 100 blends of tea, as well as gift boxes, experiences and monthly subscriptions.
Its teas are also supplied to a number of wholesale partners, including independent business, cafes, hotels and restaurants.
Revenues have grown to £4m in the 2021 financial year, up 221% since a 2017 crowdfunding round, with ambitions to hit £30m over the next three years.
Co-founder and creative director Krisi Smith added: "Whilst tea itself is at the core of our business, the planet and people on it are just as important as the financial profit and the experiences they seek.
"A proportion of this raise is ring-fenced for sustainability projects, which is a huge priority for the whole Bird & Blend Tea Co family. Spreading happiness through tea isn't just a statement, it's a manifesto our people live by, and we're excited to build our business further with previous and new investors keen to help us spread that happiness further."