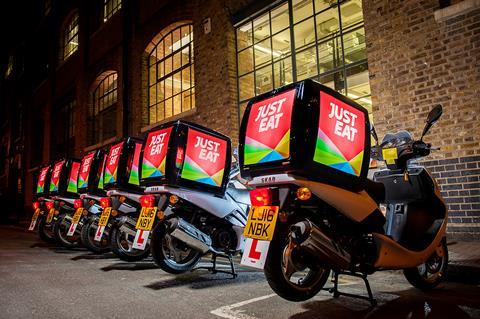 Top story
Growth at Just Eat Takeaway has remained "strong" in the third quarter despite large parts of the world retunring to pre-pandemic life.
The delivery group processed 266-million orders in the three-month period, representing a 25% increase compared with the same quarter a year ago, while gross transaction value (GTV) totalled €6.8bn (£5.8bn), up 23% year on year.
Just Eat said the investment programme in the UK continued to drive "sustainable network effects". The group reached more than 200-million orders in the first nine months of 2021, up 51% in the third quarter of 2021 compared with the same period last year.
Just Eat UK also surpassed the one-billion orders milestone since its foundation, which the company said demonstrated its "enormous scale and longevity".
In the US, orders in the third quarter increased 3% compared with the same period last year. Management started to implement an improvement programme re-focusing the company on Grubhub's strongholds.
Germany was the second fastest-growing segment, adding 10-million incremental orders in the quarter compared with the prior year, representing 35% order growth.
CEO Jitse Groen said: "With most of the world returning to pre-pandemic life, our growth in the third quarter of 2021 has remained strong.
"Just Eat Takeaway.com is well-positioned for autumn and winter, our traditional growth season. We look forward to updating the market on the exciting opportunities for long-term growth across our business during our Capital Markets Day on 21 October."
The group reiterated its full-year guidance for order growth above 45% year on year, with GTV in the range of €28bn to €30bn.
Shares in Just Eat sank 3.9% to 5,293p as markets opened.
Morning update
THG has issued a statement this morning commenting on the dramatic 35% fall in its share price yesterday (see Yesterday in the City below for full details).
The company acknowledged the drop following the capital market event and said it knew of "no notifiable reason for the material share price movement".
It added there was "no material new information was disclosed at the event".
Since its IPO in September 2020, T"THG has consistently delivered ahead of its targets set at the time of IPO and recently reported a strong first half performance across all divisions, with group revenue of £958.8m, +44.7% YoY," the statement said.
"The group also has a very strong liquidity position as it enters its peak trading season, with available cash as at 30 September 2021 of £700m across long-dated three-five year facilities."
Shares in THG returned to positive territory this morning following the major sell-off, with the stock up 2.6% to 292.4p.
Kerry Group presented its strategic update for mid-term financial targets for 2022-2026 and its sustainability commitments for 2030 as the group held a virtual capital markets day.
The updated strategy continued to reflect Kerry's focus on ingredients and nutrition.
It's annual revenue volume growth target has been updated to 4-6% on average across the plan, supported by key growth platforms of 'authentic taste', plant-based, food waste and health & bio-pharma.
Kerry set an EBITDA margin target of 18%+ by 2026, underpinned by raising its target to 20%+ in its taste and nutrition division.
As part of the operational efficiencies pillar, the group announced its 'Accelerate Operational Excellence' transformation programme, beginning in 2022 and running until 2024. The programme will focus on manufacturing and supply chain excellence, with an investment of approximately €120m over the period, delivering a full annual recurring benefit of about €70m per annum from 2025, following the completion of the programme.
As part of Kerry's 'Beyond the Horizon' sustainability strategy, the company also announced an enhancement of its targets. Kerry is increasing its target for scope 1 and 2 emissions reduction from 33% to 55% by 2030, aligning with the most ambitious goal of the Paris Agreement. As part of its broader 'Diversity, Inclusion and Belonging' strategy, Kerry is extending its commitment to equal gender representation across all senior management roles by 2030.
CEO Edmond Scanlon said: "We have made significant strategic progress in recent years, as we continue to evolve our business as the world's leading taste & nutrition partner for the food, beverage and pharmaceutical markets.
"We have a truly unique business with strong leadership positions, aligned to today's consumer demands and customer needs. Today's update is the next evolution of Kerry, as we strive to create value for our customers every day, by solving their complex challenges with differentiated solutions.
"This supports our vision to be our customers' most valued partner, creating a world of sustainable nutrition."
Nestlé has changed the way it categorises its geographic areas across the world, creating two new zones (North America and Greater China) starting in the new year.
The Swiss group said the new architecture would strengthen the company's market-led approach and further its ability to win in a rapidly changing environment.
The structure also underscores the company's "deep commitment" to succeeding in all parts of the world, including its two top markets: North America and Greater China.
From 1 January, Nestlé will be organised into five zones: North America, Latin America, Europe, Asia, Oceania and Africa (AOA) and Greater China.
CEO Mark Schneider said: "With the new zone structure, we will significantly sharpen our geographic focus to drive sustained profitable growth everywhere we operate.
"This move will bring us closer to consumers and customers, unlock new business opportunities and enable us to be even more agile in a fast-moving consumer environment."
Yesterday in the City
The FTSE 100 fell back 0.2% to 7,130.69pts as the threat of interest rate rises and inflation haunt the markets.
The pressure was piled on THG boss Matt Moulding even more yesterday after the stock was wallopped in a massive sell-off following its much-awaited capital markets day – the first since its IPO in September 2020. The shares plummeted 35% to 285p, leaving the business down 64% since it floated at 500p a share. It gives THG a market cap of below £3.5bn, compared with more than £8bn in September when shares hit heights of 684p. The capital markets event was seen as a chance for Moulding to reassure investors about the group's future prospects.
Other fallers included McColl's Retail Group, Fevertree Drinks and Nichols.
Ocado jumped 5.4% to 1,649.5p yesterday. The online grocer has had a rough ride this year, with shares down 30% since the start of 2021.
Shares in soft drinks bottle Coca-Cola HBC rose 4.6% to 2,487p after it committing to achieving net zero emissions across its entire value chain by 2040.
Fellow risers included B&M European Value Retail, Deliveroo and Bakkavor Group.