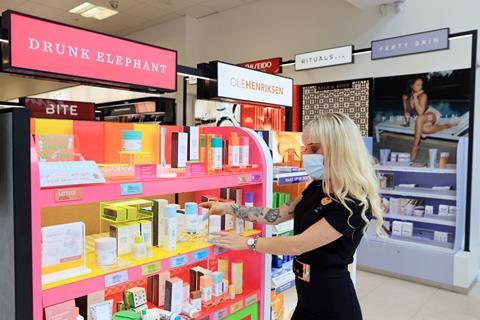 Boots hopes to draw more shoppers back to high streets and away from online rivals by rolling out beauty consultation areas to more stores.
Boots' in-store 'beauty halls', where customers are offered free consultations from trained staff, have so far been the preserve of flagship branches in locations such as London's Covent Garden.
Scaled-down versions are now being rolled out to 30 smaller stores across the UK, from East Kilbride to the Isle of Wight.
The move will involve the recruitment of 100 new 'beauty specialists', whose expertise is bolstered by 'empathy training' designed to help them better understand customers' needs.
It will also see the introduction of new brands to the stores, such as Drunk Elephant, MAC and pop star Rihanna's Fenty Beauty.
Along with the 60 flagship stores where beauty halls are already found, it will bring the total number to 90 by the end of this year. The 100 additional beauty specialist roles will bring the total to 700.
Rationalising its estate and offering more in-store services are priorities in Boots' ongoing transformation plan, along with enhancing its e-commerce proposition in the face of growing competition from the likes of Asos.
"We are so pleased to launch even more reinvented beauty halls on UK high streets, furthering our position as the UK's number one for beauty," said Boots UK MD Seb James.
"While our online sales continue to grow, the in-store experience is still hugely important, which is why we have continued to invest in our new-look beauty halls throughout the pandemic and beyond.
"As we are now out of lockdown and life is starting to look more normal, I am confident our beautiful new beauty halls will help to drive more footfall into Boots as well as to local high streets more broadly."
Boots has added 65 new beauty lines to its range since the first national lockdown, with brands Anastasia Beverly Hills, UOMA Beauty and Bite Beauty among recent arrivals. Kylie Cosmetics is due to be added later this year.
Third-quarter results announced in July put Boots UK comparable retail sales up 38.7% year on year in the three months to 31 May, and said high street footfall was showing early signs of recovery.
Sales of beauty products in stores were up 85% year on year in the period, according to the retailer.
These are the 30 smaller stores due to have beauty halls by the end of the year:
Letterkenny
Athlone
Epsom Ashley Centre
Sevenoaks High Street
Southport Chapel Street
East Kilbride The Plaza
Hayle West Cornwall Shopping Park
Aberdeen Union Square Shopping Centre
Hereford High Street
Worthing Montague Street
Carlisle English Street
Salisbury Silver Street
Burton On Trent Coopers Square
Richmond George Street
Stratford Upon Avon The Maybird Centre
Belfast Boucher Road
Romford The Liberty
Southend On Sea The Royals Shopping Centre
Rugby Junction One Retail Park
Grantham High Street
Londonderry Foyleside Shopping Centre
Grimsby Friargate
Fareham Whiteley Village Shopping Centre
Crewe Grand Junction Retail Park
Sunderland The Bridges
Isle Of Wight Newport
Dundee High Street
Portsmouth Commercial Road
Nottingham Riverside Retail Park
Brentwood