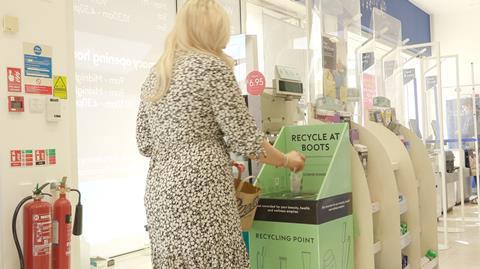 Boots is expanding a recycling initiative for beauty, health and wellness packaging from 50 to a further 650 stores.
The scheme rewards customers for returning 'hard-to-recycle' packaging such as toothpaste tubes and make-up palettes. For five items of eligible packaging left in an in-store recycling point, they get 250 Boots Advantage Card points, worth £2.50 when they spend £10 or more in store.
To take part, customers must register for the initiative on Boots' website, which will redirect them to a site managed by the pharmacy retailer's partner in the scheme, Metrisk.
They must then take a photo of each item of packaging they wish to return and upload it 24 hours before depositing it in a recycling box in a participating store. They must also scan a QR code on the recycling box as they drop the packaging off.
The empty packaging is sent to Boots' recycling partner MY Group, to be transformed into new products such as reusable storage containers used in the pharmacy retailer's warehouse.
The scheme is intended for packaging that cannot typically be recycled by local authorities to "fill a gap for items that are not accepted kerbside". As a result, customers receive rewards for dropping off packaging such as lipsticks and mascaras made from composite materials but not for shampoo, conditioner and shower gel bottles. The eligibility of packaging is assessed from the photos uploaded by customers before items are approved for drop-off.
The scheme has seen half a million items recycled since its launch in 50 stores last year, according to Boots, with Colgate and No7 among the most recycled brands.
"We are delighted with the reception the Recycle at Boots scheme has had – the reaction from our customers has been overwhelmingly positive," said Lucy Reynolds, Boots director of communications and CSR.
"We've listened to their feedback and as a result are rolling the scheme out further, making it easier than ever for our customers to recycle their empty products that would usually go to landfill."