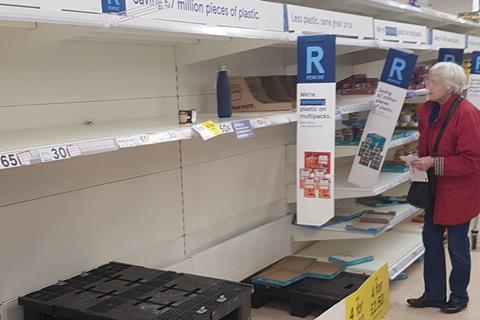 Tesco has warned panic-buying is set to return in the run-up to Christmas, predicting it could be "far worse" than the frenzied shopping which stripped shelves at the start of the pandemic.
The warning came during the first meeting of the government's new food and drink supply chain taskforce last week.
Tesco is among a number of leading retailers that have been selected by government to find a solution to the labour crisis.
Tesco warned Defra business engagement lead Ben Kitching, who was chairing the meeting, that despite paying inflated wages it was unable to fill the quantity of vacancies and was currently operating with a substantial shortfall.
It revealed it was currently looking to fill around 800 HGV vacancies, adding its logistics partner Eddie Stobart was seeking a similar number of drivers.
It comes as NFU president Minette Batters also warned of the return of panic-buying.
A letter to Boris Johnson written by Batters today, and signed by 12 food and drink trade associations, has urged Johnson to "save Christmas".
The letter, seen by The Grocer, said: "The entire UK food supply chain from farm supply to retail outlet are united in calling for an emergency 'Covid recovery visa' to open up new recruitment opportunities as a matter of urgency. Without it, more shelves will go empty and consumers will panic-buy to try and get through the winter.
"The supply chain will be critically damaged beyond recovery if it cannot overcome the immediate crisis. We must have an urgent commitment from you to enable the industry to recruit from outside the UK over the next 12 months to get us through the winter and to help us save Christmas."
Batters is also understood to have slammed the government's taskforce for not including the wider food supply chain during NFU's emergency summit of industry leaders yesterday.
A Tesco spokesman said: "We have good availability, with deliveries arriving at our stores and distribution centres across the UK every day. While the industry-wide shortage of HGV drivers has led to some distribution challenges, we're working hard to address these and to plan for the months ahead, so customers can get everything they need."
A Defra spokesman added: "The UK has a highly resilient food supply chain, which has coped well in responding to unprecedented challenges. This year we expanded the seasonal workers pilot to 30,000 visas for workers to come to the UK for up to six months. We have introduced a package of measures to help tackle the HGV driver shortage that will streamline the process for securing a licence and we continue to work with industry to understand labour demands and supply issues."