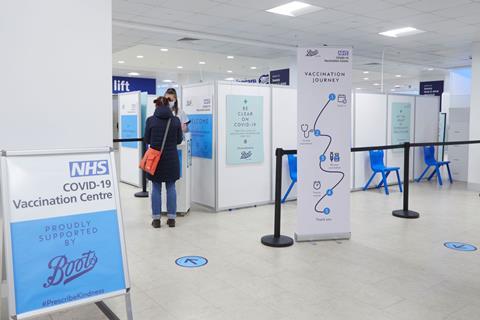 Boots is embarking on its biggest-ever winter flu vaccination programme after seeing a 67% year-on-year increase in bookings.
The health and pharmacy retailer has also announced plans to help the NHS deliver Covid-19 booster gabs through 'vaccination hubs' in selected stores.
Boots has already delivered close to 800,000 first and second Covid vaccinations since January 2021.
Boots' roughly 100 stores with vaccination hubs will offer flu or Covid jabs or both. Those offering Covid jabs will be "confirmed soon following discussions with the NHS", Boots said.
The winter flu jab service will also be available at over 2,000 other stores in consultation rooms.
Boots said it aimed to administer three times as many flu vaccinations from September 2021 to March 2022 as it did in the 2020-21 season. Appointments start from 17 September and over a third are already reserved for pre-booked private and NHS patients, according to the retailer.
"With low prevalence over the past months possibly leading to a drop in flu immunity among the population, vaccinating against flu is even more important than in previous years," said Boots UK chief pharmacist Marc Donovan.
"Many adults will be eligible for both a Covid-19 booster and a free NHS flu jab. Having both offers optimum protection from getting seriously unwell from these viruses in the coming months."
Boots' winter flu vaccination service offers free jabs on behalf of the NHS to those eligible for one. Those ineligible for a free NHS jab can book a private appointment for £14.99, or £19.99 in Jersey.
Latest group results, for the third quarter to 31 May 2021, said Boots had administered more than three million Covid tests to date, the majority in partnership with the NHS. Boots UK comparable pharmacy sales increased 3.7% year on year, reflecting "stronger pharmacy services", the trading update said. Comparable retail sales were up 38.7% year on year.