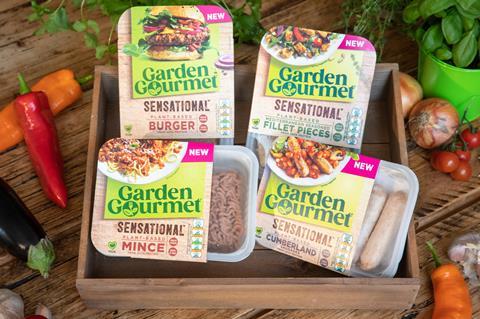 Nestlé is to bring back its plant-based Garden Gourmet brand to the UK, some two-and-a-half years after it was delisted by the fmcg giant due to poor sales.
A relaunched meat alternative-focused Garden Gourmet range will go on sale nationally in Tesco on 20 September and in Sainsbury's from 29 September. Carrying a 'Sensational' descriptor, the range will consist of four vegan products: a burger (rsp: £3), Cumberland-style sausages (rsp: £2.75), mince (rsp: £3) and Mediterranean-style fillet pieces (rsp: £2.75).
Nestlé said the chilled range offered shoppers versatility with products that could be "easily switched into family favourite meals", while the brand's recipe offered Garden Gourmet's "meatiest" flavour and juiciest texture so far.
Made with what it said were "high-quality ingredients" including responsibly sourced soya beans, the brand was ideal for shoppers looking to cut down on meat but not wanting to compromise on taste, it claimed.
The brand has also committed to carbon neutrality by 2022, while its products are high in protein and a source of fibre, with none of the four SKUs high in fat, saturated fat, sugar or salt.
The range is markedly different to the original Garden Gourmet lineup, which was positioned as a vegetarian brand and also included products such as beetroot falafels and quinoa and broccoli bakes.
That lineup was quietly pulled from UK shelves by Nestlé at the start of 2019, less than a year after it first went on sale, with the supplier admitting it had "not been as popular as we had hoped".
However, the relaunched range had already proved "hugely popular in Continental Europe and UK hospitality", it stressed, citing the success of Subway UK's use of the Garden Gourmet brand as its sole provider of vegan 'meatballs' for use in its Meatless Meatball Marinara.
"With more and more people looking for great-tasting, more sustainable plant-based food, we are very excited to bring the Garden Gourmet range to UK supermarkets with our tastiest and juiciest Sensational range," said Nestlé UK & Ireland food and dairy MD Honza Dusanek.
"We want people to fall in love with plant-based eating at first bite, which is why we have worked hard to deliver even more meat-like flavour and texture to satisfy even the most discerning of tastebuds," he added.
"Our aim is to make plant-based food an easier and more attractive choice for people who want food that is good for them and good for the planet, so our new Garden Gourmet range will be offered at good value to help consumers enjoy it week in, week out."
The launch will be supported by in-store activity and via a digital marketing push. Nestlé said it was also planning on expanding the brand past its core lineup from next year.
It follows a drive towards more vegan products by Nestlé in recent months, as part of a commitment to achieve net zero emissions by 2050. It unveiled its Wunda pea protein-based milk alternative in June, while the supplier also launched Kit Kat V, a vegan version of Kit Kat, earlier this year.