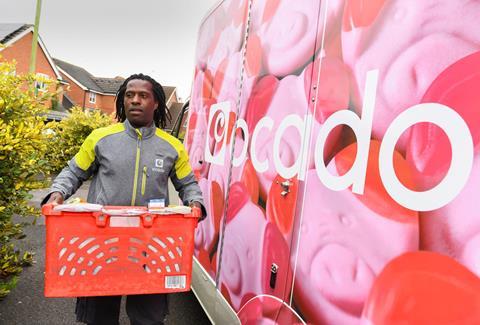 A fire at Ocado's largest warehouse caused by its robots colliding has cost the online grocer £35 million in sales (The Times £). Ocado has been left nursing losses of £10million after a major fire at its biggest robotic warehouse knocked £35million off sales (The Daily Mail). A fire at Ocado's largest warehouse over the summer will dent full-year profits by about £10m, the online supermarket said on Tuesday as it also cautioned that a labour shortage was forcing it to pay more for drivers (The Financial Times £).
Ocado has said it expects to spend up to £5m hiring and paying delivery drivers amid a nationwide Brexit-related shortage, as it announced a £10m loss related to a warehouse fire in July (The Guardian). Ocado is spending up to £5m to offer higher hourly rates and signing-on bonuses to attract lorry and delivery drivers – as it also counts the cost of a warehouse fire this summer (Sky News). Ocado says attracting new delivery drivers through higher wages and sign-on bonuses will cost it up to £5m (The BBC).
Ocado hopes Christmas delivers in wake of warehouse fire chaos – co-founder and chief executive Tim Steiner remains confident of a 'bumper' festive season (The Telegraph).
The Times Tempus column advises investors to 'avoid' the shares, writing: "Missing capacity targets, more fires or additional costs associated with trying to stop similar events happening again could cause the shares to falter. That's without mentioning the impacts of supply chain and wages inflation. It won't take much to break the spell." (The Times £)
One of the world's biggest buyout firms is swallowing Gail's, the upmarket cafe chain, in a bet on the continued recovery of the UK's post-pandemic economy (Sky News). Upmarket bakery chain Gail's has agreed a sale to US private equity group Bain Capital as it plans expansion despite industry-wide staffing shortages and supply constraints (The Financial Times £).
The private equity firm that has struck a £7bn takeover of Morrisons has reached an agreement with the chain's pension trustees to provide additional security to its schemes as it moves to secure the deal (The Times £). Clayton, Dubilier and Rice has agreed to provide extra support to Wm Morrison's pension funds if it takes over the UK supermarket group, after trustees warned that a debt-fuelled buyout would "materially weaken" its retirement schemes (The Financial Times £). Clayton Dubilier & Rice has said it would ensure the retirement pot would be among 'the best funded and best supported in the UK' (The Daily Mail).
Boris Johnson's government has been forced to delay imposing checks on EU goods entering the UK until mid-2022 as it attempts to stop Brexit further exacerbating supply chain problems (The Financial Times £). Brexit controls on food and animal products that were due to come into effect in January are being postponed until July 2022 because of the potential impact on businesses, the British government has announced (The Guardian). The UK has further delayed implementing post-Brexit border controls on agri-food imports from the EU, blaming the pandemic for disrupting global supply chains (Sky News).
Supermarket sales continue to fall compared with a year ago as the end of lockdown restrictions sees shopping habits return to normal, according to a data analytics firm (The Daily Mail). Supermarket prices have risen 1.3% this month, marking a significant increase in grocery price inflation as supply chain difficulties begin to affect shoppers (The Guardian).
Deliveroo and Amazon have struck their first customer-facing partnership since the US ecommerce group agreed to invest in the London-based food app two years ago, offering Prime customers free deliveries on certain orders. (The Financial Times £)
Amazon has increased its average starting wage to $18 per hour and plans to hire more than 125,000 warehouse and transportation workers in the United States (The Times £). Amazon is offering sign-on bonuses of up to $3,000 (£2,165) in some locations as it aims to hire 125,000 delivery and warehouse workers across the US amid a recruitment frenzy (The Guardian).